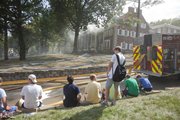 Lawrence-Douglas County Fire Medical crews put out a fire on the roof of Sigma Chi Fraternity on Wednesday.
About 3:15 p.m. Wednesday, fraternity members smelled smoke coming from outside of the building, 1439 Tenn., and immediately evacuated it and called the Lawrence Fire Department.
The fire department arrived to find smoke coming from the building and roof. The department deployed a truck with an aerial ladder to spray the roof of the fraternity house. At one point, small flames could be seen, but the fire was under control around 5:30 p.m.
Division Chief Eve Tolefree, a Lawrence-Douglas County Fire Medical spokeswoman, said crews had yet to determine the cause of the fire, and damage estimates were unavailable Wednesday night.
The building appeared to be lightly damaged, and fraternity members were able to move back into the building Wednesday night.
According to Sigma Chi chapter president Blaine Kaehr, the smoke originally came from the roof of the house between the front pillars and the actual building.
"We know it didn't start inside, and there wasn't anyone outside," Kaehr said.
All 82 members of the fraternity made it out of the building safely.
Kansas University spokesman Jack Martin said that the university would contact professors to make sure they understood the fraternity members' situations.
Kaehr said he had yet to think about how the incident might make attending classes difficult.
"I'm just very concerned about safety and am glad right now everyone is OK."
Kaehr credited fire drills for the speedy and safe exit of all the fraternity members.
No firefighters were injured putting out the fire.
Copyright 2018 The Lawrence Journal-World. All rights reserved. This material may not be published, broadcast, rewritten or redistributed. We strive to uphold our values for every story published.