The ground is broken, the money is raised, and the Lawrence Community Shelter is poised to move to a larger facility near the Douglas County Jail later this year or early next year. The move has been years in the making, as the current shelter at 214 W. 10th St. has struggled to accommodate a growing homeless population in Lawrence.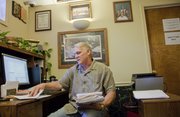 For those on the front lines, such as shelter case manager Brian Blevins, the move represents a big step forward in helping homeless Lawrence residents move toward stable housing.
The Journal-World spent some time recently at the shelter, chatting with Blevins about how the new facility will help caseworkers such as himself improve services to Lawrence's homeless.
Blevins, perhaps as much as anyone, knows the ins and outs of the problems that lead to homelessness. At one point homeless himself, Blevins, 51, climbed out of alcohol addiction eight years ago after a decades-long battle.
"I fought it tooth and nail," he said. "I've been where they're at."
Thanks to the same programs Blevins helps coordinate at the shelter, he earned a degree from Kansas University and has spent the last five years in a variety of roles at the shelter.
Here's what Blevins had to say about the move, public perceptions of homelessness in Lawrence and keys to overcoming homelessness:
For staff, what's the most exciting part about the new location?
A: It's all about space. Currently, Blevins' office is tucked in the basement of the shelter, and he shares it with two other caseworkers and any interns they currently have at the shelter. People come and go constantly, and each caseworker is interrupted by phone calls and residents with questions. Privacy is an afterthought; there simply isn't room for it.
"It's so congested," Blevins said of the office, which is across the hall from the family living area, where kids and parents sleep on thin mats on the floor. "We need some breathing room."
Plans for the new shelter, located at 3701 Franklin Park Circle, next to Douglas County Jail, are still in the making but call for extra caseworker meeting rooms, medical clinic rooms and a 10,000-square-foot jobs program. Beds will increase from 75 at the current shelter to 125 at the new location.
How will the new location help get Lawrence's homeless housed?
A: The new location will remove some current barriers to success. For instance, several agencies, such as Bert Nash Community Mental Health Center, will have offices at the new facility. Instead of residents having to wait or find transportation for much-needed services, they'll be on site.
And a brighter, new environment will make a big difference, Blevins said. It's all about building self-esteem among the residents, focusing on their strengths. That's a little more difficult in a crowded, noisy, outdated environment.
Public perception of homelessness in Lawrence sometimes focuses on the homeless people who've been around for years and don't seem willing or able to make positive changes. Is it difficult for staff to see some of the same people stuck in a cycle of homelessness and addiction?
A: There is a certain population at the shelter that staff has been seeing for years. Blevins currently has a caseload of more than 200 people, some of whom he's been working with for years — and some who might never change.
"They're not at a point where we're going to do them any good," he said.
But if someone took a look at Blevins a decade ago, they might have made the same assessment. It can take years to get to recovery, and there are enough successes to warrant the services.
"There's no greater reward than helping someone" get out of homelessness, he said. "But they're hard fought."
Copyright 2018 The Lawrence Journal-World. All rights reserved. This material may not be published, broadcast, rewritten or redistributed. We strive to uphold our values for every story published.