Coming up
Harvest Home Picnic, 5 p.m. Sept. 8
A tradition started in the community of Sigel in 1873 to celebrate the harvest. Live music will be part of the celebration.
Groundbreaking for the museum expansion, 7 p.m. Sept. 15
For more information, visit wakarusamuseum.org.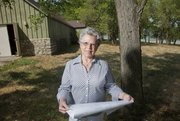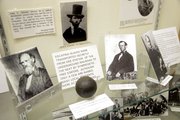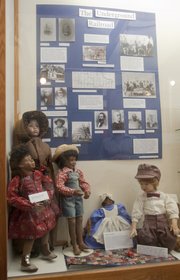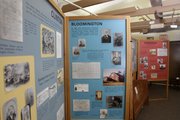 More than 40 years ago, when the Army Corps of Engineers began buying up properties in the Wakarusa Valley to flood the area and build Clinton Dam, Martha Parker, who had lived in the area her whole life, began telling residents of the area to save everything that had to do with their families.
"I told them to get up in their attics and find those photographs, letters and report cards. I wanted everything," she says. "These people were farmers. They weren't interested in preserving their heritage."
But Parker was. And because of her foresight and persistence, she was able to accumulate a vast array of treasures, papers and artifacts from the people who settled the Valley.
"I had boxes and boxes of this stuff in my home for years," she says.
Parker knew there were stories inside the boxes: stories about the earliest settlers, like her grandmother who came in 1860 at the tender age of 9; stories about her husband's family, who settled in the valley two years before that; and stories from African-American residents, many of whose ancestors came to the Valley after the Civil War because of its reputation for being a haven for runaway slaves. "They settled in the Valley because they knew the people here were sympathetic," says Parker.
Settlers poured into the area after the Kansas-Nebraska Act opened the territory and allowed residents to choose whether Kansas would enter the Union as a slave or free state. The popular sovereignty approach to the slavery question had devastating consequences for settlers of the area, many of whom had a personal understanding of the term "Bloody Kansas." People like Augustus Wattles, who arrived in May of 1855 with his wife and four children and staked a claim in Bloomington.
In the time he resided in the Valley, he testified before the governor about questionable names on a voting list that had elected pro-slavery representatives to the Assembly, he set up a printing press after abolitionist newspapers in Lawrence had been destroyed, and he organized a group of men to stop a group of southern forces who were stealing horses and murdering settlers.
Later, he operated a station on the underground railroad and became friends with John Brown. After Brown's ill-fated raid on Harper's Ferry, Wattles was part of a group who went to Virginia to help him escape from jail.
Wattles is just one of the hundreds of residents who not only struggled with the slavery issue but had to contend with hazards on the frontier such as floods, droughts and diseases. And while the early settlers of the Valley built churches, schools and communities, their descendants watched as they were destroyed by the dam.
"When the lake filled with water, our culture and history came to the surface," says Parker.
And like cream that rises, stories emerged from the materials Parker collected, and many are on display in the Wakarusa River Valley Heritage Museum, which is located, of all places, in a former milk barn that belonged to one of the area's most prominent citizens, J.C. Steele, who lived a stately brick home on one of the highest points of the Valley.
"I remember the couple who lived in the house when I was a little girl," says Parker. "He played the fiddle and she the piano, and there were always doughnuts. … I figured if I couldn't save all of the valley, at least I could try to save one house."
Despite the home's placement on the National Register for Historic Places, Parker's efforts to preserve it were ultimately unsuccessful. The best the Corps of Engineers could do was to save Steele's milk barn and three surrounding acres, a plot of land now adjacent to Bloomington Beach at Clinton Lake.
There isn't much space in the old barn, only about 700 square feet, but that is about to change. On Sept. 15th, the museum will break ground on an addition that will more than double its size.
"I've waited 40 years for this," says Parker, who has served as the museum's director since its opening in 1984. "People come in wanting to know the history of their family, and finally, we will have a place for them to do their research."
Parker hopes the new museum will be open by May 2013.
"I keep telling the doctor I'm going to slow down," says Parker. "Maybe I'll finally be able to!"
Copyright 2017 The Lawrence Journal-World. All rights reserved. This material may not be published, broadcast, rewritten or redistributed. We strive to uphold our values for every story published.