Donny Wasinger ran his way to the kind of momentum-boosting year any soon-to-be senior could appreciate.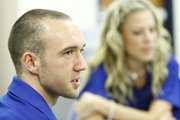 First came cross country success in the fall of 2010 — the Kansas University junior finished 10th out of 171 runners at the Midwest regional championships. Wasinger followed it up in the 2011 outdoor track season by picking up an All-America honorable mention in the 1,500 meters after placing 14th at the NCAA Championships.
The 5-foot-10 distance runner from Winona, Minn., couldn't wait to expand on that success in his senior year. But before Wasinger could complete the Jayhawks' first cross country workout of the fall 2011 season, a torn left achilles wrecked his plans. With a cast on his leg for six weeks, he had no choice but to take a medical red shirt.
Used to racing over any landscape in his path for miles at a time, walking around with the help of crutches seemed like an out-of-body experience.
"That was like the worst thing I've ever been through," Wasinger said. "I hated being on crutches."
The props became the bane of his injured existence because he couldn't run. A waterproof cast allowed him to do some exercising in a swimming pool.
"It's just not the same," Wasinger recalled.
Even after the removal of the cast and getting cleared to again train on land, it would take the single-minded runner time to regain his former ability.
"It's just as hard mentally as it is physically," Wasinger said of rehabbing. "Definitely a little bit of shock to the confidence."
Now that KU's cross country season opener is two weeks away — Sept. 1 at Rim Rock Farm — the fifth-year senior said his intense training and the roundabout way he had to take to reach his final season has raised his anticipation.
Kansas assistant coach Michael Whittlesey said the cross country team needs Wasinger's leadership this year, and his presence alone should increase the confidence of the Jayhawks' other runners.
Whittlesey and Wasinger conversed about the runner's commitment during his junior year, and the coach said it preceded Wasinger's transformation into an elite-level runner.
"I always felt like he was kind of short-changing himself compared to the other (top) athletes on other teams," Whittlesey said.
The assistant coach asked Wasinger if he would concede that other schools' No. 1 runners were better than him if they were on the same team. The answer was no.
"If I was running with those guys," Wasinger told the coach, "I wouldn't let them ever beat me."
Wasinger desires to get back to his former All-Big 12 self, but because he wasn't able to run any farther than a 1,500 this past spring as he was getting back into shape, he knows an 8K cross country race will be a challenge.
"I'll have to catch on quick. It's not that long of a season," Wasinger said of the six meets before the NCAA Championships. "There's not a lot of room for error. One bad meet is a fifth of your season, a sixth of your season."
At this point, though, having his career back on track is all that matters.
"It was a pain," Wasinger said of missing last year, "for sure."
Copyright 2018 The Lawrence Journal-World. All rights reserved. This material may not be published, broadcast, rewritten or redistributed. We strive to uphold our values for every story published.