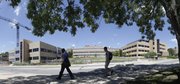 Kansas University's School of Engineering is booming.
In five years, undergraduate enrollment has grown nearly 30 percent to 1,900 students. And now, construction is under way that will nearly double the size of engineering facilities.
The expansion includes two buildings. The first, the Measurement, Materials and Sustainable Environment Center, was completed in June and will be ready for use in the fall. The $24 million building will house research areas to test engines, materials and biofuels as well as space for KU's Center for Remote Sensing of Ice Sheets (CReSIS).
The second building has yet to be named, but is part of an estimated $65 million project. It will add six large classrooms, which hold 60 to 160 students, as well as student services and collaboration areas.
"This facility will help ensure that as we are growing we will be able to maintain the quality of learning our students have come to expect," said Susan Browning, associate engineering dean, who serves on the construction committee.
Browning said that this project is in its infancy but it's hoped the building will be completed in early 2015.
This expansion has been a long time coming. Browning, who also teaches in the engineering program, said classrooms crammed with 20 more students than recommended can be challenging.
"We have labs that teach students how to mix concrete that have 1932 technology in them," she said "We are doing this and we are doing this well, but with this growth we can't do it anymore. "
Now, Browning said, students will have a "state-of-the-art" experience at the school with lab equipment on par with any college in the nation.
These changes were exactly what Kansas Senate President Steve Morris was hoping for when he began to champion the University Engineering Initiative Act, a law that encourages more engineering graduates and helps fund construction of engineering facilities. The state will help KU fund the second building, matching dollar for dollar the funds the school raises — up to $35 million over the next 10 years.
"The initiative we came up with is a 10-year program," Morris wrote in an email. "I am pleased to hear that engineering students have already increased at our universities and optimistic that these future engineers will serve and invest in Kansas over the long haul."
The hope for more Kansas engineers begins with the driving force behind all the construction: the engineering school's push for increased enrollment and retention.
Former KU School of Engineering Dean Stuart Bell said this push has been a great success.
"We are recruiting more students into the school, and once they are here we are working harder to make sure they graduate," Bell said. "The quality of students just is exceptional. These are just great young people. They are excited and great to be around."
Bell, who left the university for a position at Louisiana State University, said that the key to the enrollment growth, besides good recruitment, was working with the students in a more proactive manner to make sure they were succeeding within the program.
"We have been doing this within the school, by meeting with the students looking to identify ways to keep them successful."
These ways include providing more advising and having professors immediately flag students who appear to have trouble in the class. These students are then met with and sometimes receive additional help. Bell said these changes have had a positive effect on the engineering school.
"We have really moved in some very significant ways," Bell said.
Copyright 2018 The Lawrence Journal-World. All rights reserved. This material may not be published, broadcast, rewritten or redistributed. We strive to uphold our values for every story published.