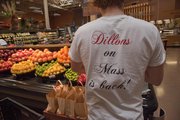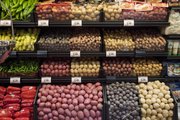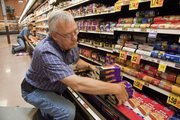 Dapper Dillons.
As leaders of the grocery store chain work to put the final touches on their new store at 17th and Massachusetts, they wouldn't mind at all if that becomes the new nickname for what they're touting as a state-of-the-art city market.
"This is going to be a nice store for any part of town," said Steve Birchfield, store manager for the multimillion-dollar grocery that opens on Sunday. "We know that our previous store here might have been a little maligned and called Dirty Dillons, but I promise we're turning that around in a big way."
Area residents will get a chance to see for themselves as the store opens at 7 a.m. Sunday. Store officials will host several city and area leaders for a ribbon-cutting ceremony at 9 a.m. Sunday.
At a media tour on Friday afternoon, company officials provided a sneak peek at the store. Among the highlights:
• About 10,000 square feet of additional space compared with the 1960s-era store that was razed last year.
• New amenities, including a Starbucks coffee shop, a sandwich grill, a Chinese deli, a sushi bar and an outdoor dining area along Massachusetts Street.
• A dedicated organic food section.
• An expanded pharmacy with a drive-thru off New Hampshire Street.
Store officials will spend most of Sunday's ribbon cutting — which will include Baby Jay, the Kansas University cheerleaders and free food samples — touting all that is going on at the store. But store leaders also hope shoppers notice what's not going on at the store, namely most of the building's overhead lights.
The store has about 50 skylights, and on Friday the store was fully lit with only about 10 percent of the light fixtures turned on. The store is a prototype design when it comes to energy efficiency, and includes special sensors to control its utility bills and coolers with smart chip technology designed to cut down on energy usage.
"This store is 30 percent more efficient on an energy usage per square foot level than the previous store was," said Scott Rooks, an energy engineer for Dillons. "That ends up being a very significant number for us."
The store also is aiming to divert from the landfill or incinerator about 90 percent of all the waste the store produces. The store is the first Dillons store in the country to offer single-stream recycling receptacles throughout the store, said Sheila Lowrie, a spokeswoman for the company.
The Lawrence store also will feature unique signs, including pictures of area farmers who have grown food that is sold in the store. Lowrie said it is part of an effort to highlight efforts to stock the store with regional products as much as possible.
"We have definitely heard from our customers that they are looking for more local produce," Lowrie said.
The green features of the store have Dillons leaders excited because they believe the ideas in the Lawrence store can be transferred over to new stores the company will build in the future. But Birchfield said he thinks customers are going to be most impressed with the wider array of services offered at the store. The old store largely included just a fried chicken counter and salad bar, in addition to the standard grocery features.
"I think the Starbucks is going to be very popular," Birchfield said.
The store also will include an artisan cheese shop that will offer about 100 cheeses, an olive bar and a large bulk foods section that will include grinders to make your own peanut or almond butter.
The various new departments have boosted employee totals at the store. The store will employ about 200 people, up from about 90 at the old store, Birchfield said.
Copyright 2018 The Lawrence Journal-World. All rights reserved. This material may not be published, broadcast, rewritten or redistributed. We strive to uphold our values for every story published.