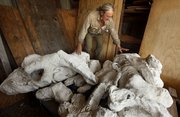 A local dinosaur hunter just back from a fossil-finding trip to Montana will be working on a new triceratops fossil this winter, but it's just the latest prize for Alan Detrich, who has collected many specimens over the years.
The new find could be worth $1 million to $1.5 million, Detrich said, because the three-horned dinosaur is a popular fossil for museums and collectors to own.
"You ask a kid to name the dinosaurs, and triceratops will be No. 2," he said.
The most popular dinosaur, Tyrannosaurus rex, could be worth more than $8 million. Detrich found one of those, too, years ago in South Dakota.
His latest find is remarkably complete, he said. It's rare to find a triceratops that's more than 50 percent complete, and this one is almost there, he said, even though it hasn't been fully excavated yet.
Some of the fossil remains underground near Jordan, Mont., and parts of it are being cleaned by a professional in Lusk, Wyo.
Other parts of the fossil, including a massive vertebra that would take two hands to hold, are encased in plaster in a shed near Detrich's rural Douglas County home, about 18 miles southwest of Lawrence. The fossils are housed along with many other dinosaur bones and artistic sculptures Detrich has created using dinosaur bones. He'll work on cleaning and preparing the most recent find later in the winter.
The area where he found the dinosaur has yielded several triceratops fossils in recent years, Detrich said.
"We believe that we're in an area that there's a lot of them," he said. "Herds were crossing these rivers and a lot of them drowned."
The money generated from the fossils is divided among the members of his fossil-finding team and the landowner, Detrich said.
Fossil hunters are something of a rare breed, Detrich said.
"I bet there aren't 100 of them in the world today," he said.
David Burnham, a vertebrate paleontologist at the Kansas University Biodiversity Institute who has known Detrich for more than 20 years, said while fossils of triceratops skulls and other smaller body parts are more common, it's unusual to see a more complete fossil.
The famous locale in Montana has definitely yielded its fair share of fossils, Burnham said, but he couldn't say whether that was because of its reputation or if there happened to be more dinosaurs there than in other places for some reason.
Detrich has shared some of his findings with KU's Natural History Museum, and many of his fossils have been found in western Kansas, Burnham said.
"He's been very generous to paleontology and very generous to KU," Burnham said.
Copyright 2018 The Lawrence Journal-World. All rights reserved. This material may not be published, broadcast, rewritten or redistributed. We strive to uphold our values for every story published.