Photo Gallery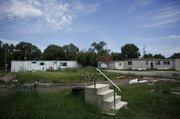 The Riverview Trailer Park
View images of the vacant Riverview Trailer Park
All that's left is the mess.
City officials confirmed that the final residents of the Riverview Trailer Park in North Lawrence recently have moved out of the trailer park that became the subject of numerous sanitation and environmental code investigations by the city in April. The residents are now gone, but they certainly aren't forgotten. There are signs of them everywhere. About 20 abandoned and unsecured trailers remain at the park at 827 Walnut St.
Visible through the windows of the trailers are scenes of lives suddenly moved. A jar of peanut butter and a bottle of honey sit on a dining room table. Toys, such as a remote control car and a basketball, remain in the living room of another trailer. A toilet, oddly, rests on the deck of one unit. Mattresses, couches, small appliances, even cans of coffee are strewn about other homes. And everywhere there is lots of trash.
But perhaps the most fitting item left behind is a movie: "The Little Shop of Horrors."
City officials aren't yet ready to declare the abandoned park a horror, but they are becoming concerned about the potential for problems if the park isn't soon cleaned up.
"If the owner can't clean up the property, we're going to have to do it for him," said Brian Jimenez, code enforcement manager for the city. "We'll need to have a discussion about that issue in the very near future because we obviously don't want anyone in those units."
Because the property has been found to be in violation of multiple city codes, the city can use its legal authority to clean up the property and assess the costs to the property's future taxes.
George Warren, the California-based owner of the property, said his finances currently won't allow him to clean up the property.
"There is only so much I can do," Warren said. "The city won't allow me to continue operating, so it has put me in a bind financially. Now, it looks like it will be everyone's problem."
Warren does have the approximately 1 acre trailer park up for sale. Lawrence real estate agent Don Schmidt said he's listing the property for approximately $190,000 and hopes to find someone who wants to open a new trailer park on the property.
City officials said there is much work that will have to be done before they'll allow residential development to take place on the property.
"Most, if not everything, just needs to go," Jimenez said. "They just need to start over with a clean slate."
Jimenez said city officials to this point largely have been focused on getting all residents out of the park. He said the city did extend several deadlines to give people time to find other housing.
"It was going to create a homeless situation for most of those folks, if we stuck to firm deadlines," Jimenez said. "I think we made a good decision to be flexible. I think everybody was able to find alternative housing. It may not be the housing they want, but they found other accommodations."
City officials in April declared several trailers at the park unfit for habitation when inspectors found several units discharging raw sewage onto the ground, faulty wiring and large amounts of debris in living units.
Other parks
The park was at least the second in the city that closed down in Lawrence within the last year. Residents of the Gaslight Mobile Home Village near 31st and Iowa streets also began vacating their properties after the park was sold to a Texas-based group that plans to build student apartments on the site.
There had been speculation that a third park also was on the verge of closure. But attorneys for the Jayhawk Court mobile home park in the 1400 block of East 15th Street said that while that property is going through a foreclosure proceeding, there are no plans to close the park.
"There likely will be a sheriff's sale at some point, but there is no reason to think that this mobile home park is going to close," said Cal Karlin, a Lawrence attorney representing The University National Bank. "It would seem that whoever buys it likely will want to maintain it as a trailer park."
Jimenez said he thinks the city still has adequate numbers of mobile home lots available to accommodate people who have been displaced. But he said there is a growing issue of older mobile homes falling into significant disrepair.
"Those type of dwelling units serve a purpose, and we recognize that, but, most importantly, we want them to be code compliant," Jimenez said. "To no one's surprise, when they reach 30 to 40 years old, they are often in very poor condition."
Copyright 2017 The Lawrence Journal-World. All rights reserved. This material may not be published, broadcast, rewritten or redistributed. We strive to uphold our values for every story published.