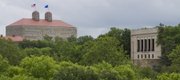 Subscribe to the email edition of Heard on the Hill and we'll deliver you the latest KU news and notes every weekday at noon.
Your daily dose of news, notes and links from around Kansas University.
• I have a story in today's newspaper about the return of the massive horde of students to school.
An aside: Move-in day is Friday. First day of school is Monday. Hopefully that will stave off the second massive horde of annual questions I get about those two topics.
One detail that wasn't in my story is that the university is recommending routes people can take to reach their residence halls, in an effort to make the congestion as manageable as possible.
For Templin, Lewis and Hashinger Halls: From Interstate 70, take the West Lawrence exit to Iowa Street, and turn left onto 15th Street and right onto Engel Road. From Kansas Highway 10, go north on Iowa, then turn right on 15th and right again onto Engel.
To get to the more southerly McCollum and Ellsworth Halls: From I-70, take the West Lawrence exit to Iowa, then turn right on 19th Street, right onto Constant Avenue, right onto Irving Hill Road and across the bridge.
From K-10, go north on Iowa, then left on 19th Street toward West Campus, right on Constant, right on Irving Hill and across the bridge.
Just don't forget that glittery white board or the mini-fridge, and you'll be fine.
• And as all those students come back, many of them will be looking for part-time work.
A good place to start might be the University Career Center's Part Time Job Fair from 9 a.m. to 4 p.m. Aug. 20 on the fourth floor of the Kansas Union.
The university also posts part-time job vacancies for students at the University Career Center's website at KUCareerHawk.com/parttimejobs.
That site is updated daily and includes on-campus and off-campus opportunities.
• If you report on higher education long enough, you'll start to get some really strange press releases. The latest of the ones that I would put into that category came with an email that started with this line:
"Whether parents are gearing up to send their teenager away to college for the first time in a dorm room setting or as an upper-classman living in an off-campus apartment, it is crucial for them to add a new item to their son or daughter's back-to-school list."
And what, you may be asking, is that crucial item?
That's right: It's bedbug spray.
I had no idea that product existed, and I'm reasonably certain I would have heard if any of KU's residence halls had a big bedbug outbreak.
But if you still think it's a crucial item, it's out there.
• I realize that writing about strange press releases is really just an invitation for me to receive even more strange press releases, so please mix in some good tips for Heard on the Hill at ahyland@ljworld.com.
Copyright 2018 The Lawrence Journal-World. All rights reserved. This material may not be published, broadcast, rewritten or redistributed. We strive to uphold our values for every story published.