You won't find August 13 listed as a national holiday on most calendars.
It is, apparently, Left-Handers Day, but it wasn't a love for southpaws that had Lawrence High football coach Dirk Wedd upbeat Monday. Wedd and every other fall sports coach in Kansas circled the date because it marked the first day of practice.
"It's like Christmas," Wedd said. "(Early Monday morning) I woke up at 3 o'clock and woke up at 4 and woke up at 5."
By the time practice started in the afternoon, the Lions had another gift in the form of 70-degree weather on an overcast day. It was the first time in 38 years of coaching Wedd thought about bringing a jacket to Day 1 of practice.
"I'm not sure where they came up with this weather," Wedd said, "because I just spent the whole summer worrying about how we were gonna get through two-a-days in 100-degree weather, and somehow this happens."
Instead, the Lions began working toward their season opener (Aug. 31 versus Shawnee Mission West) with two practices in ideal conditions.
"We're excited," Wedd said, "because we have a chance to be a good football team."
Free State football
Across town, Free State's preseason football schedule got started much earlier, under Monday morning lights — overcast skies at 6:15 a.m. prompted the illumination as Firebirds coach Bob Lisher oversaw the team's first practice.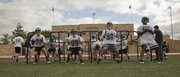 "The kids like it," the coach said of the sunrise work. "It's better for everyone involved, because we're not out in the heat for three and a half hours."
There were no pads — that begins Thursday — but Lisher and the players were more than happy to get back to work.
"I think it went well," the coach said. "The main thing is we've had these kids all summer practicing and working out, so they should be advanced on what they're able to do."
Between the execution and the effort, Lisher didn't find many grievances.
"The things you look for as a coach, those things happened this morning," he said. "Now we need to keep them happening."
LHS cross country
The drudgery that comes with the first day of practice — paperwork, locker assignments and the like — impacted a lot of practices, and LHS cross country coach Brian Anderson's session was no different.
Eventually, the Lions got to running, otherwise known as the exciting part. But for those who didn't spend the summer preparing, Anderson said the first day's run can be revealing.
"They start to get the idea that, 'Hey, I've got some work to do,'" the coach said.
FSHS cross country
Generally, Free State cross country coach Steve Heffernan said, an initial practice in mid-August calls for talk about rules and routines, but with the weather cooperating, he had to let the runners take advantage. Even with 70 students coming out — a program high — policies and procedures could wait.
"We'll probably save that for when it heats up a little bit," Heffernan said, "in the middle of the week."
While the true beginners ran a short course, roughly 15 Firebirds who had worked out all summer were able to make eight- to 10-mile journeys Monday.
LHS girls golf
Lawrence's girls golf team celebrated its first practice under new coach Kristen Samp by spending the better part of two hours on the practice putting green at Lawrence Country Club.
"It's the quickest way to lower your scores," Samp said, "and that's kind of our goal, so that's what we're gonna practice a lot."
The Lions' enthusiasm and willingness to follow the new coach's lead made an impression on her.
"I'm trying to get them to buy into my philosophy, and I think they're gonna get better in the process," Samp said.
Qualifying rounds for Lawrence's five varsity spots begin today.
FSHS girls golf
Firebirds girls golf coach Craig Hershiser only scheduled a meeting for the first day of the fall schedule but with 16 girls in attendance and two out of town before school starts on Thursday, the coach said the next few days of practice at Eagle Bend Golf Course should be interesting, because it might be necessary to make a few cuts.
"Twelve's a good number," Hershiser said. "That gets the most practice time and the most competition time for the number of kids."
LHS/FSHS gymnastics
Jessica McMurray's first practice as head coach of the gymnastics programs at Lawrence and Free State got off to a promising start. Seeing all the Lions and Firebirds gymnasts for the first time proved to be an energizing for the new coach.
"The skill level is above what I'd thought it would be," she admitted.
After some stretching and conditioning, the city's gymnasts worked on their flexibility.
"We did not look too shabby (Monday) on the floor," McMurray said, "so I'm actually kind of excited."
LHS boys soccer
Coach Mike Murphy tested the athleticism of his Lawrence boys soccer players at the team's first practice, sending them through timed sprints, a two-mile run and shuttle runs.
The Lions accomplished some ball work, too, but Murphy already found himself looking forward to the second day of practice, which will feature a heavy dosage of one-on-one drills.
"That's where I can really get a sense for how well is this particular player able to match up one-on-one," the coach said. "It's 11-on-11, but essentially what you have is 11 one-on-one match-ups all over the field."
With Lawrence's depth, Murphy anticipated tryouts for the varsity spots will be intense — "We're gonna have a good team this year," he said.
FSHS boys soccer
Free State soccer coach Kelly Barah had his pencil and paper ready Monday, but it was the players who were getting tested. From a 44-yard dash to agility drills and a broad jump, Barah wanted to see who was truly ready to play soccer.
"Then we just start playing and see who's got the touch," the coach said of the payoff after doing all the testing.
Barah knows his senior class can't wait to get back on the field. About a week ago, some of them approached their coach and told him they couldn't stop thinking about how last year ended with a home playoff loss to rival LHS.
"I think they want to get a ball on their foot," Barah said, "and have me stop running them back and forth in the sand."
LHS girls tennis
For Lions tennis coach Chris Marshall, logistics proved to be the theme of Monday's practice. Paperwork, uniform choices, contact info, expectations — Marshall and the players discussed them all, and more.
"The other hard thing is they're not in school yet, so we're still missing some," the coach added.
Marshall also had the Lions play a name game to get the older players acquainted with their new freshman teammates.
FSHS girls tennis
When the season's first practice began, Free State tennis coach Oather Strawderman immediately began the process of separating the playing field.
"I can get an idea of who can hit and who can't hit," the coach said.
The good thing about tennis, Strawderman added, is the Firebirds play each other to earn the top spot.
"Even if we don't need to do tryouts, we still need to decide who the No. 1 girl is and who the No. 20 girl is," he said. "… It's super nice. It's just like having a big race. I wish it was that easy."
LHS volleyball
As Lions volleyball coach Stephanie Magnuson saw things, the best part of the team's first day together was seeing the program's future right there in front of her, as players competed for varsity spots at tryouts.
"From the bottom up, it's fun to watch," Magnuson said.
The coaches know, for the most part, what each returning player can do athletically, so they focused on other aspects.
"During tryouts we do a lot of observation," Magnuson said. "There isn't a lot of instruction. What we like to see from our upperclassmen is that leadership role."
FSHS volleyball
Someone wondered the other day if the end of summer break would bum out Nancy Hopkins.
"Actually, no. I'm always looking forward to it, because it's volleyball season," the Free State coach said.
This is Hopkins' favorite time of year. The first of three days of tryouts began at FSHS with the coach ranking players at every position, and a lot of scrimmaging.
"I'm big on watching them play, because you see how they interact with other kids," Hopkins said. "Who plays well beside each other, in volleyball, that's really important."
Down time is even considered by Hopkins, who kept an eye on players while they waited in line or took a water break — "That says a lot about what kind of person they are," she said.
Copyright 2018 The Lawrence Journal-World. All rights reserved. This material may not be published, broadcast, rewritten or redistributed. We strive to uphold our values for every story published.