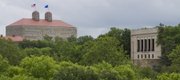 Subscribe to the email edition of Heard on the Hill and we'll deliver you the latest KU news and notes every weekday at noon.
Your daily dose of news, notes and links from around Kansas University.
• If foreign languages are your thing, KU has probably got the class for you. The university has long been proud of the number of foreign languages it offers. Looking to bone up on your Uighur? KU's got you covered.
Its 40 different language offerings are more than any other Big 12 peer, Jonathan Perkins, director of the Ermal Garinger Academic Resource Center, tells me. (Texas is second with 34, and everyone else is far behind that).
This Sunday, KU will be offering a "Foreign Language Buffet" for students interested in taking a foreign language, with additional information about scholarship and Study Abroad options.
The event is scheduled from 1 p.m. to 2:45 p.m. Sunday at room 4070 in Wescoe Hall.
• The Hall Center for the Humanities has announced its upcoming speakers in its Humanities Lecture Series.
The whole thing kicks off on Sept. 6 with a lecture from poet Nikki Finney from 7:30 to 9:30 p.m. at Woodruff Auditorium in the Kansas Union.
Her lecture is "Making Poetry in Our Anthropocene Age."
That lecture title did make me Google the word "Anthropocene," which Wikipedia tells me is "an informal geologic chronological term that serves to mark the evidence and extent of human activities that have had a significant global impact on the Earth's ecosystems."
You can see the rest of the lectures here. (I'll note that as an avowed "This American Life" fan, I was pleased to see Sarah Vowell on this list).
• Here's a recent update from the fine folks at KU's Monarch Watch on the status of the monarch butterfly populations.
Generally, writes Chip Taylor, director of Monarch Watch, warm May temperatures and warm summers are better for monarch populations.
"This year, however, is off the charts," he wrote.
Droughts could affect the milkweed population, the primary food source for monarchs, Taylor said. Many plants that typically flower in the fall began blooming in June, he wrote.
The bottom line, according to Taylor: if there is sufficient rainfall and normal temperatures through August in the monarchs' northern breeding area, the population could grow to the largest since 2003. If the high heat and drought continue, look for another year of below-average butterfly populations.
• I'm hoping that you'll be celebrating the Anthropocene Age by sending me a tip for Heard on the Hill to ahyland@ljworld.com.
Copyright 2018 The Lawrence Journal-World. All rights reserved. This material may not be published, broadcast, rewritten or redistributed. We strive to uphold our values for every story published.