Demonstrating a true synergy among the past, present and future, Eudora Baptist Church pastor Kevin Wood performed a baptism at the beginning of Sunday's retrospective service commemorating the church's 60th anniversary.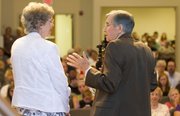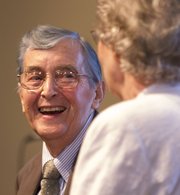 Several of the church's former ministers returned to speak at the service, which featured a video of the church's history, interviews with founding members and a sermon about the church's future. A celebratory luncheon took place at the church after the service.
Mary Beem, one of the celebration's organizers, was 10 years old when the church held its first meetings in the home of Myrtle and Clifton Long in 1952. She says that the church's success and its longevity — from the Longs' home to Eudora's former Victory Theater, to the church's longtime location at 11th and Main streets, to the church's current location at 525 W. 20th St., built in 2009 — are a divine testament.
"I think our success is that it's a God-led church; it's not a people-led church," Beem said. "We take care of each other physically and spiritually."
The Longs' son, Don, was one of the speakers at Sunday's service. He recounted what turned out to be a pivotal chance encounter with the church's founding minister, Wilber Noble, in 1951 on Main Street in Eudora.
"(Noble) started telling us about himself and his background. He wanted to know if there was a Baptist church in Eudora," Long said. "We invited him to our house to meet my mother and dad. We got to talking about establishing a Baptist church here in Eudora, and we held the first service in our home."
Noble's widow attended the service, and Wood praised her late husband's efforts in planting 20 churches in northeast Kansas.
"Wilber was a guy who got around, and we are very pleased he got around to Eudora," Wood said.
Male church members built the church's first permanent location at 11th and Main in Eudora in the evenings and on weekends. The current building, which is just southwest of Kansas Highway 10 and Church Street, was built with help from a service organization called Baptist Builders for Christ, which provided free planning and labor. This past year, members of Eudora Baptist helped return the favor, in a sense, when they traveled to Alabama and helped rebuild a Baptist church that had been destroyed by a tornado.
In his sermon Sunday, Wood adopted a Bible verse from Phillippians as his theme: "Only let us live up to what we have already attained."
Although 60 years is a long time, he emphasized that the church is still growing and changing, and that in "church years," Eudora Baptist "is still a pup."
"We've only been around a few years. We've got a lot of work before us," Wood said, as he laid out plans for the church's missions, benevolence ministry and children's ministry.
Beem said that the people of the church have comforted her and one another in times of loss, and that is why the church, which regularly has 300 people at its worship services, continues to grow and thrive.
"God has blessed our people so much," she said, "God has been in this church."
Copyright 2018 The Lawrence Journal-World. All rights reserved. This material may not be published, broadcast, rewritten or redistributed. We strive to uphold our values for every story published.