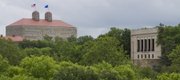 Subscribe to the email edition of Heard on the Hill and we'll deliver you the latest KU news and notes every weekday at noon.
Your daily dose of news, notes and links from around Kansas University.
• The debate of whether or not there should or shouldn't be a Chick-Fil-A on the KU campus has reached the halls of the United States Congress.
U.S. Rep. Tim Huelskamp, a Republican who represents Kansas' "Big First" district in the western part of the state, sent KU Chancellor Bernadette Gray-Little a letter to let her know where he stands on the issue.
You'll recall that competing petitions were floating around after the restaurant chain's president made comments expressing his opposition to gay marriage.
Huelskamp (who has a doctorate degree from American University in political science) came down firmly on the side of chicken.
You can read the whole letter here, but here's a flavor.
"Kicking out a private business that is operating legally on the grounds that its leader holds a particular set of religious and political beliefs different from yours or any other official would violate the University's commitment to non-discrimination," Huelskamp wrote. "The University of Kansas has a proud tradition of allowing people of differing views to express those views; to discriminate and undo that tradition would be a travesty."
Just so we're clear, though, I haven't heard of any serious moves (from the chancellor's office or otherwise) to shutter the Chick-Fil-A in Wescoe Hall.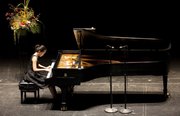 • Here's some Heard on the Hill kudos to Chaeyoung Park, a 14-year-old pianist who is originally from South Korea but now resides in Lawrence.
She won KU's prestigious International Institute for Young Musicians piano competition earlier this summer.
Scott McBride Smith, who is the director of the piano institute at KU, told me on Wednesday that Park had gone on to become a finalist in the Eastman Young Artists Piano Competition in New York.
Smith said Park was the youngest semi-finalist and the youngest finalist in the competition., which he said was like the Olympics of young piano competition.
And looking at the list of finalists, I can see why. Park was up against youngsters from Singapore, Italy, China and even the faraway land of Redmond, Wash.
If this was the Olympics, then Leonardo Colafelice, of Bari, Italy, won the gold medal.
Smith said it was a great honor to be included as a finalist, however, particularly given the stiff competition. She will also receive a $750 cash award.
• A former faculty senate president at KU is taking on an administrative role as Rodolfo Torres, professor of mathematics, has been named as associate vice chancellor for research and graduate studies and a vice president of the KU Center for Research Inc.
Torres takes over for Joshua Rosenbloom, who is on leave from KU as a visiting program director with the Directorate for Social, Behavioral and Economic Sciences at the National Science Foundation in Washington.
According to a KU statement announcing his hire, Torres will share in the oversight of research administration, strategic planning and other research-related responsibilities on the Lawrence campus.
• As things stand, the two issues that Heard on the Hill has caused the most legislative action on involve Chick-Fil-A and Missouri license plates with Jayhawks on them. I'm not going to think too hard about that while you send me some more tips at ahyland@ljworld.com.
Copyright 2018 The Lawrence Journal-World. All rights reserved. This material may not be published, broadcast, rewritten or redistributed. We strive to uphold our values for every story published.