Topeka — After the political massacre of moderate Republican candidates in the Kansas GOP primary, state Democratic leaders Wednesday urged moderates and independents to join with them to fight what they described as Gov. Sam Brownback's radical agenda.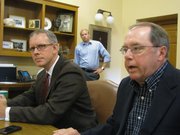 "The welcome mat is front and center at the Democratic Party of Kansas," said House Minority Leader Paul Davis, D-Lawrence.
Davis said the Brownback agenda is anti-public school, anti-middle class taxpayer, and anti-woman.
Brownback, a conservative Republican, issued a statement, saying he is pro-jobs. "The people of Kansas have a clear choice: Do we want to grow the government or grow the economy? Most Kansans want to grow the economy and increase the number of private sector jobs in our state. We will continue working every day to help Kansans fulfill their aspirations."
On Tuesday, control of the Kansas Senate appeared to be in the hands of so-called conservatives after Brownback and several wealthy contributors, including the billionaire Koch brothers, targeted for defeat a group of moderate Republican incumbents.
Ten senators targeted by Brownback were defeated in the GOP primary, and conservatives picked up two more open Senate seats.
"We had a governor and his followers who wanted to purge members of the Republican Party from the Legislature, taking on traditional Republicans who had been the bulwark of that party for years and years and years," said Senate Minority Leader Anthony Hensley, D-Topeka.
Now the battle continues to the Nov. 6 general election and Democrats are in a precarious situation. Democrats hold only eight of 40 Senate seats and 33 of 125 House seats, and are hoping to get support at the polls from moderate Republicans.
In Tuesday's GOP primary, conservative groups, such as Americans for Prosperity, which was founded by Charles and David Koch, dumped untold amounts of money on mailers that linked moderate Republicans to "Obamacare."
"They ran their campaigns on fear and they, I think, misled a lot of voters that their senator was Barack Obama's best friend," said Davis. Referring to the Affordable Care Act, signed into law by Obama, Davis said, "Nobody in this building was going to effect that."
AFP-Kansas director Derrick Sontag said, "The primary results make one thing clear: Kansans support those who promote fiscally conservative, limited government, free market policies."
Copyright 2018 The Lawrence Journal-World. All rights reserved. This material may not be published, broadcast, rewritten or redistributed. We strive to uphold our values for every story published.