City leaders continued to express enthusiasm for a proposed recreation center in northwest Lawrence on Tuesday as the City Commission received a number of new reports on the project.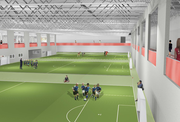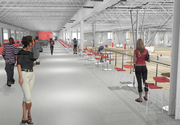 "This is a citizens' facility," Mayor Bob Schumm said. "The extra bonus to it is we can roll it out and use it as an economic development tool as well."
Commissioners took no formal action on the project Tuesday, and the end of the meeting they said they would mull over the new information and direct city staff as needed in future meetings.
The proposed city-owned youth fieldhouse combined with a Kansas University track and field and soccer complex at the northwest corner of Sixth Street and the South Lawrence Trafficway would generate $6.3 million in annual economic spending in the city, according to a report from Convention Sports and Leisure International.
John Wilkins, architect at the Lawrence-based architecture and design firm Gould Evans, presented a new design that brought the total size of the fieldhouse to 181,000 square feet. The space would have a one-eighth mile walking track and gym space for eight full-size basketball courts or 16 volleyball courts.
The newly added turf area could accommodate four 60-foot-by-80-foot soccer fields, or three such fields with room for spectators.
Lawrence Memorial Hospital has expressed interest in partnering with the city to establish a use for a 7,000-square-foot wellness space in the facility.
"We're very much in the preliminary stages" with the partnership, said David Corliss, city manager. "We're both very interested in doing something cooperatively."
City estimates placed the infrastructure costs for the new building at $6.45 million. Corliss said some of the infrastructure costs could be paid using funds from a transportation development district sales tax levied on businesses in the area.
Britt Crum-Cano, the city's economic development coordinator, presented preliminary estimates of revenue generated from such a sales tax at about $3.6 million over a 22-year period on a conservative end, and $8.6 million on a more aggressive end.
Ernie Shaw, interim director of parks and recreation, told commissioners the facility would provide numerous opportunities for a number of people, from participants in youth leagues to people over 50.
"We've never had an opportunity to program turf," he said, adding that could open up options for flag football, kickball, ultimate Frisbee and lacrosse, in addition to the other options afforded to the department.
The city has never had volleyball leagues before, he said, and that would be available in the new center.
"We have endless opportunities in a facility like this, and I don't think that the programs are going to be a problem," Shaw said.
Schumm said the new facility would also free up space and demand in the city's existing recreation centers.
"We're going to continue to look out for those facilities" and make sure they're maintained and supported, Schumm said.
The commission heard from a handful of members of the public, most of whom expressed support for the project.
"My challenge to the commission is to do it right," said Ron Crawford, who lives in the area of the proposed project. "I think you're on the right path."
Copyright 2018 The Lawrence Journal-World. All rights reserved. This material may not be published, broadcast, rewritten or redistributed. We strive to uphold our values for every story published.