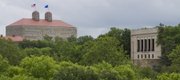 Subscribe to the email edition of Heard on the Hill and we'll deliver you the latest KU news and notes every weekday at noon.
Your daily dose of news, notes and links from around Kansas University.
• Today's Republican primary election in the state has drawn a fair amount of national coverage, meaning a chance for political science professors in the state to nab some time in the spotlight.
KU's Burdett Loomis, often a source on these sorts of issues, has weighed in for NPR and the New York Times (and more, I'm sure).
It just goes to show how unusual today's election really is.
"The conservatives, they hate the moderate Republicans," Loomis told the Times' John Eligon, the newspaper's Kansas City correspondent. "They think they really have conspired with Democrats and have prevented conservative forces from their rightful place of dominating the government."
• An editorial from KU anthropology professor Don Stull caught the eye of Forbes magazine recently, as the professor tackled the topic of how we buy food in the United States.
He was writing with Michael Broadway, professor of geography at Northern Michigan University.
Forbes focused in on this choice quote:
"Just five companies account for almost half of supermarket food sales in the United States. And what about the food those companies offer us? Let's take meat. A meal is not a proper meal without it, at least for 97 out of 100 Americans.
"Just four companies provide us with 79 percent of our beef, 65 percent of our pork, and 57 percent of our poultry.
"So, no matter what kind of meat we have for dinner, most likely it comes from the same handful of companies: Tyson, JBS, Cargill, Smithfield. You can never decide which bacon to bring home? Armour, Eckrich, Farmland, Gwaltney, John Morrell, Smithfield — all owned by Smithfield."
You can read the rest of their take here.
• A group of talented engineering students are flying off to Germany and Switzerland today. Members of KU's Madison A. and Lila Self Engineering Leadership Fellows Program take an overseas capstone trip each semester.
They'll be blogging about their experiences here, at a site that also includes information about each student and the program itself (which is a pretty cool deal for those that make the cut to get in).
In Switzerland, the group plans to visit CERN and the Large Hadron Collider, and the German portion of the itinerary includes a BMW manufacturing tour and a stop at universities in Stuttgart and Munich.
The trip is paid for using donations from companies and School of Engineering alumni.
• I'll be subbing in at the Lawrence City Commission meeting tonight for the vacationing Chad Lawhorn, but I'll still be able to take your tips for Heard on the Hill at ahyland@ljworld.com.
Copyright 2018 The Lawrence Journal-World. All rights reserved. This material may not be published, broadcast, rewritten or redistributed. We strive to uphold our values for every story published.