Learn more
The goal of Douglas County Senior Services Inc. is "Helping the older residents of Douglas County get connected and stay connected." For more information about the senior center, located at 745 Vt., and its programs, visit dgcoseniorservices.org or call 842-0543.
To see more of Constance Whiston's photography, visit constancelw.zenfolio.com.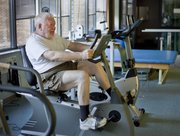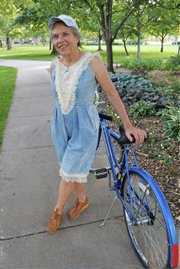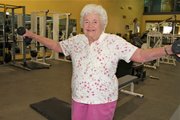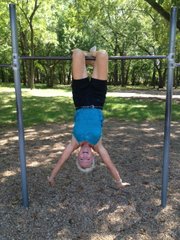 Within minutes of receiving the reporter's email message on his cell phone, Graham Kreicker is calling back to set up an interview.
He's booked most of the next morning — workout at 7:30, teleconference at 10:30 — but, the 75-year-old Lawrence resident suggests, how about talking in person over lunch?
Kreicker makes it a point to stay active, not just physically but also socially and even technologically. He's one of 16 seniors featured in "Seniors — The Good Life," a recent photo exhibit by Lawrence resident Constance Whiston.
Whiston, 63, said she hoped her photos, on display last month at Natural Grocers, 1301 W 23rd St., would break some stereotypes about senior citizens.
"Seniors can look like the people I took pictures of," Whiston said. "We can be active mentally and physically, have fun, be involved in social issues, go to the gym … they're not necessarily sitting in a chair knitting."
People's social networks often shrink once they leave the workforce, but there are many ways for seniors to stay active and connected, said Janet Ikenberry, community services manager for Douglas County Senior Services Inc., 745 Vt.
"I think that the whole use-it-or-lose it philosophy is really true," Ikenberry said. "The more active you are, the more active you're going to stay."
Here are a few of the Lawrence seniors featured in Whiston's photo exhibit who are doing just that.
JoAnn Qandil
For JoAnn Qandil, 74, variety is key.
"I do anything I can get my hands on," Qandil said. "I try it once, at least."
In addition to keeping busy with her business — she owns and leases rental properties — Qandil bicycles regularly and currently takes Zumba classes at Lawrence Athletic Club, 3201 Mesa Way.
"That keeps you hopping," she said.
On a recent trip to visit family in North Carolina, Qandil spent time at the beach, went hiking and even tried kayaking.
At home, she does alterations and creates customized outfits as a hobby. She said she's up by 6 every morning but always makes it a point to get enough rest.
Qandil said her best advice for other seniors is, "Find something you're interested in and just go for it."
Scottie Lingelbach
At 90, Scottie Lingelbach works out at Body Boutique, 2330 Yale Road, three times a week, and drives herself there and wherever else she wants to go.
"I realize perfectly well I'm very lucky," she said, noting that many of her contemporaries, unfortunately, don't enjoy the same good health.
She said her doctor says a lifestyle of exercise and eating right has paid off, too. Lingelbach said she walked outside every day for years, but that, two titanium knees later, she lifts weights and uses elliptical machines instead.
"It does take discipline," she said. "There are many days when I say, 'Oh, I'd just as soon skip it.'"
Lingelbach also continues to focus on serving others, from higher-profile appearances — she's been requested for numerous speaking engagements since being featured in Tom Brokaw's book, "The Greatest Generation" — to everyday activities, such as baking bread for a friend's birthday or brownies for charity dinners put on by her church.
Graham Kreicker
Kreicker's activity takes him all over town, and even all over the world.
Among other social and political endeavors, he's on the Unitarian Universalist Association's national board of trustees. He is a past member of the Kaw Valley Living Wage Alliance board, which prompted Lawrence to adopt the first living wage ordinance in Kansas, and the Grassroots Action board, which advocates transparency in local government. He teaches English to immigrants through his church, and, in 2010, traveled to Paraguay to teach English conversation with a group called Kansas Paraguay Partners.
Staying busy comes naturally, Kreicker said.
"I tend not to delay doing anything," he said. "When you have all these unfinished things hanging over your head, I think it really bogs you down."
Each weekday morning at 7:30 a.m., you'll find him exercising at Lawrence Memorial Hospital, 325 Maine, through the hospital's Fit for Life program.
"I'm in what I call pre-hab," he said.
Constance Whiston
Whiston herself, toned and lithe now, said she was obese as a child, but worked to lose weight in her pre-teen years and has led an active life since.
In Texas, her former home, she worked as a fly-fishing guide. In Lawrence — in addition to taking photos and maintaining her business website — she bicycles, spends time with her grandchildren, exercises daily at Body Boutique and participates in Red Dog's Dog Days workouts, where she eschews running for walking and modifies other exercises as needed.
Whiston said that she likes exercise classes better than exercising alone — "there's so much laughter and so much fun," she said — and that instead of limiting social meetings to going out for meals, she'll often suggest taking a walk instead. Whiston said especially for seniors, it's important to take the first step when it comes to social activity.
"They wait for people to call them," she said. "I'm constantly asking people out for coffee."
Copyright 2018 The Lawrence Journal-World. All rights reserved. This material may not be published, broadcast, rewritten or redistributed. We strive to uphold our values for every story published.