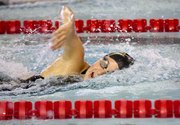 It doesn't matter how long the race is. When the Lawrence Aquahawks' Phoebe Grabill can sniff the finish line through the chlorine-saturated air, something changes inside her.
"I'm kind of a weird swimmer," Grabill said. "For some reason, I can always pull out a last 50."
She proved that Sunday on the third and final day of the USA Swimming Senior Central Zone Championships in the 1,500 freestyle. Though Grabill had no chance of tracking down Lincoln Select's Blake Balogh, who set a meet record (17:31.9), she and Taylor Maurer of the CSP Tideriders swam a nearly identical race for the first 1,450. Neither led by more than a couple of meters until the final trip down the pool at the Lawrence Indoor Aquatic Center. Then Grabill found the energy in the final 50 to take second place by 1.57 seconds.
Grabill (17:52.07) had kept a watchful eye on Maurer through the side of her goggles before setting a personal record.
"I was just trying to race her and stick with it. When she'd get a little bit ahead, I'd just try to catch up to her again," Grabill said. "We gave each other a race. I knew that she was gonna go pretty fast because she had a faster (qualifying) time than I did."
Aquahawks coach Justin Clossen wasn't surprised to see Grabill turn it on for the final stretch of the marathon race. After giving her a hard time and letting her know she could've gone faster if she had that much energy at the end, the coach said he has seen those kind of performances out of Grabill since she was 9 years old.
"Just let it go and see what happens," Clossen has tried to convince Grabill, now 16 and a junior at Bishop Seabury Academy. "She's still a little hesitant to do that at times. We'll adjust her training so she can do that a little bit more."
The coach had to search for things to critique Grabill on considering she has dropped close to 30 seconds off her 1,500 time at the past few meets.
"It's just amazing," Clossen said.
Her previous best was 18:00, so she was motivated for the final meet of the Aquahawks' summer schedule. Had she not set a personal-best time, Grabil said she would have felt like she swam for no reason.
"It's kind of a satisfying way to go out," she said.
Eliza Anderson also swam for the Aquahawks on Sunday and took seventh place in the 50 free B-final, with a time of 29.16.
Ad Astra Area Aquatics' Eric Sparks took seventh in the 50 free men's final, finishing in 23.35.
Copyright 2018 The Lawrence Journal-World. All rights reserved. This material may not be published, broadcast, rewritten or redistributed. We strive to uphold our values for every story published.