The Spencer Museum of Art at Kansas University, which had two lower floors damaged by a water main break last week, will be closed for another week, Saralyn Reece Hardy said in a message to museum supporters Monday.
Photo Gallery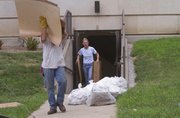 Spencer Art Museum closed after water line break
Hardy said the incident did not affect the museum's galleries and collections but that the museum will still be closed through next Monday.

KU officials have said water from a broken main last Wednesday on Mississippi Street damaged two bottom floors. A majority of the damage was in the museum's bottom floor, which houses the Murphy Art and Architecture Library, and KU sent between 15,000 and 20,000 books, which is roughly 10 percent of the library's 170,000 volumes, to Chicago for treatment and repairs.
The museum has been closed since the leak last Wednesday. Hardy said scheduled group tours will proceed as planned.
Updates on the museum's schedule will also be posted on the museum's website, www.spencerart.ku.edu.
Copyright 2018 The Lawrence Journal-World. All rights reserved. This material may not be published, broadcast, rewritten or redistributed. We strive to uphold our values for every story published.