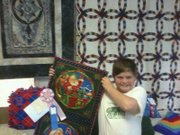 Adam Leonard spent a couple of months working on his Christmas wall hanging.
The 11-year-old boy learned his skills from his grandmother, Cathy Miles, and through the Maple Leaf Quilters Guild.
He was able to earn a reserved grand champion ribbon for his project at last week's Douglas County Fair, but when a family friend went to pick up the wall hanging last weekend, it was missing at the fairgrounds.
"It did qualify him for a State Fair entry," his mother, Joyce Miles, said, "so he won't be able to do that. We are asking that it be returned anonymously."
Adam's project wasn't the only one missing or apparently stolen from the displays in Buildings 1 and 2 at the fairgrounds, said Margaret Kalb, executive secretary of the Douglas County Fair Board.
She said fair officials did notify the Douglas County Sheriff's Office after they noticed a few projects by 4-H members and others apparently were taken. The fair book has a liability section that states exhibitors enter and display items at their own risk, but Kalb said the apparent thefts were still disappointing.
"We hope that somebody would be honest enough that they would consider returning the items," she said. "The fair board is very concerned. We do our best to find volunteers to watch those buildings. I'm sure sometimes you can't see everything in any type of business. I'm so sorry for the loss of those types of items, and so is the whole fair board."
Joyce Miles said her son, who will attend South Middle School this year, had planned to give the project as a gift to his father, Mark Leonard. The family is asking anyone who has the wall hanging to return it anonymously to his mother's employer, Housekeeping Unlimited, 1611 St. Andrew's Drive, which is west of Bob Billings Parkway and Kasold Drive.
"I think he's just more shocked than anything that it was taken," she said. "And if they really liked it that much, he probably would have made them one."
Copyright 2018 The Lawrence Journal-World. All rights reserved. This material may not be published, broadcast, rewritten or redistributed. We strive to uphold our values for every story published.