Jeff Gavin was ready to accept the trophy.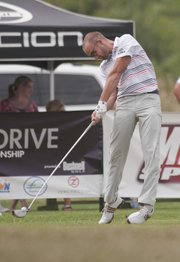 Event organizer John Novosel had just declared Gavin the winner of the Professional Long Drive Championship at Eagle Bend Golf Course on Saturday, but just before stepping forward for a TV interview, Gavin stopped when he heard the bad news.
Novosel had misspoke. Gavin had, in fact, tied Mike Carlson in the shootout round, with both players posting identical drives of 351 yards.
Carlson made the most of his second chance, winning the three-ball playoff with a 345-yard drive to win the $2,500 first prize.
"It feels like a huge gift, a huge blessing frankly to be able to compete with these guys," Carlson said. "These guys are world-ranked, top 20 in the world. That's the kind of caliber that are here. ... To walk away with a win is something special."
Carlson, a 29-year-old from Omaha, Neb., drove to Lawrence with his wife, Amy, and infant son, Harvey, on Friday night.
The fourth-year long driver, who has competed at the world championships three times, stayed consistent, blasting a 350-yard drive in round one and a 349-yard drive in round two before advancing to the four-person shootout round.
The 10 competitors competed in tough conditions Saturday, facing a headwind from the north and also high humidity.
"We're already swinging too hard most of the time, so when the wind blows in your face, you want to swing harder," Carlson said. "That's really the opposite of what you want to do any time you hit into the wind. You want to swing not quite as fast and swing freely and confidently."
Once Gavin and Carlson reached the playoff, they alternated shots, with Gavin going first.
"I wasn't trying to just put one in play; I was trying to swing for the fences," Gavin said. "I wanted to put up a number for the fans, and I didn't catch on in the center of the (club) face. That's what happens in these. If I could've hit one hard on the first one, I would have put the pressure on."
Instead, Gavin's ball sailed out of bounds, and Carlson — who later said he was trying to stay simple with his shot — knocked his first playoff ball into the grid 345 yards away.
The Toronto native Gavin never could match the shot, sending two more drives out of bounds to give Carlson the win.
All that after Gavin had thought a few minutes earlier he was the champion.
"It was like, 'Woohoo,' then there was a little bit of deflation there," Gavin said. "I tried to rebound, come back, and I knew I had to buckle down and try not to think about that and hit a good ball out there. ... It is what it is. I hit it good today, and I'm going to take some good things away from this."
One of the fastest long-drive swingers in the world, Gavin — with a build much like former baseball slugger Mark McGwire — posted club speeds Saturday up to 148 miles per hour with ball speeds up to 212 mph.
De Soto native Troy Templeton took third, posting a 334-yard drive in the shootout round after launching a 357-yarder in round two.
Reigning world champion Carl Wolter was fourth with a drive of 323 yards in the shootout round. He also had the longest drive of the day: a 359-yard blast in round two.
The event will be televised later this month on Metro Sports.
Copyright 2018 The Lawrence Journal-World. All rights reserved. This material may not be published, broadcast, rewritten or redistributed. We strive to uphold our values for every story published.