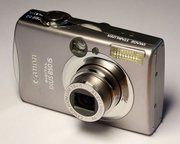 I've written in the past that quality of light is as important as the quantity of light in photography. This is certainly true in regards to aesthetic qualities but incorrect if there isn't enough light to capture the image in the first place.
As mentioned last week, three controls dictate an exposure: shutter speed, aperture and ISO. In my opinion, the most critical to the success of capturing photographs in low light is the aperture.
While shutter speeds and ISO options are common to all cameras, maximum apertures on camera lenses can vary among models. This difference can be significant and determine success or failure in low-light photography.
If you shoot with digital, single-lens reflex cameras, you have the option of switching to a lens with a larger maximum aperture. Fixed lens, point-and-shoot (P&S;) cameras don't give you this option.
First, a quick review on aperture and f/stops. On all cameras, apertures are represented by numbers f/2.8, f/4.0, f/16, etc. Also called f/stops, they represent different-sized apertures or lens openings that allow light into the camera. Larger f/stop numbers (11.0, 16.0) equal smaller apertures. Smaller f/stop numbers (2.8, 4.0) equal larger apertures. The smaller the number, the larger the aperture and the better your camera's ability to photograph in low light.
Here are three P&S; cameras that are similar in many ways except for their maximum aperture. The camera model is followed by the zoom range of the lens, from wide-angle (W) to telephoto (T), and their maximum aperture at each end of that range. Keep in mind that maximum apertures on zoom lenses often get smaller as you zoom to telephoto settings.
Canon Powershot S100: 4-120mm, f/2.0(W)-f/8.0(T)
Nikon Coolpix P310: 24-100mm, f/1.8(W)-f/4.9(T)
Sony Cyber-shot DSC-HX10: 24-384mm, f/3.3(W)-f/5.9(T)
In this comparison the Nikon wins on both ends. Its f/1.8 makes it an excellent low-light camera at wide angle.
Let's consider a low-light situation with an exposure of 1/60th shutter speed, 800 ISO and an aperture of f2.0. In the wide-angle setting, the Canon and Nikon handle this fine. But the Sony's maximum aperture would not be large enough for that exposure. To compensate, you would need to raise the ISO, potentially losing image quality, or you would need to lower your shutter speed and further risk blurring your shot because of camera shake.
In another comparison, though, the Sony has a maximum aperture of f/5.9 at its long telephoto setting, 384mm, that provides more light than the Canon does at its longest telephoto, 120mm at f/8.0.
Depending on your priorities as a photographer, comparing maximum apertures at both wide-angle and telephoto settings is a good way to judge a camera's low-light potential.
For good side-by-side camera comparisons, go to www.imaging-resource.com and then select the Compare Cameras link.
Copyright 2018 The Lawrence Journal-World. All rights reserved. This material may not be published, broadcast, rewritten or redistributed. We strive to uphold our values for every story published.