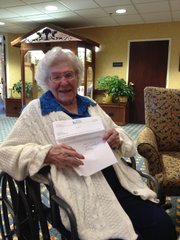 Edna Zillner has seen many events and changes in her lifetime. Now she is about to see her 105th birthday party.
Zillner turned 105 on Friday, making her the oldest resident of the Pioneer Ridge Nursing Home — and possibly the oldest person in Kansas.
"I'd like to know of someone older," she said jokingly.
Turning 105 isn't an everyday event. According to the U.S. Census, only 1 in 6,000 Americans make it to the age of 100.
Earlier in the week, Zillner received a congratulatory letter from Gov. Sam Brownback, and she plans to celebrate her birthday with tea and cookies from 2 p.m. to 4 p.m. today at the nursing home. She said she avoided a cake because 105 candles were just too many to blow out.
Zillner said her secret to longevity is simple.
"Just keep going and you'll get there someday," she said. "Then someone will be sitting across from you asking you these questions."
It's hard not to have questions for Zillner. She lived through the Dust Bowl and grew up in a farmhouse without running water and electricity. She learned to drive a wagon with her favorite horses, Jack and Kate.
Zillner worked as a teacher, lunch lady and department store clerk while raising four children. Even with such a long and full life, it took Zillner no time to remember her favorite moment.
"My wedding," she said.
She married at age 20 in 1927. After the ceremony, she finished her shift at the department store where she worked. Times were different then, she explained.
While she is no longer 20 and now lives in a vastly different world, Zillner said she feels like she could go another 100 years.
"I don't have an acre of pain," she said. "I feel good."
Her daughter Joyce Halderman couldn't help but agree.
"Who knows, she might pass me up," she said.
Copyright 2018 The Lawrence Journal-World. All rights reserved. This material may not be published, broadcast, rewritten or redistributed. We strive to uphold our values for every story published.