It has been said a llama can kick a coyote to death.
Photo Gallery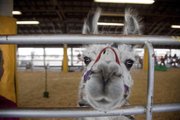 Lotsa llamas at the Douglas County Fair
At the moment, I don't think there are many coyotes shaking in their boots. Currently, you see, llamas are not looking much like the tough guys of the corral. One in particular is parading around a Douglas County 4-H arena with Hawaiian-style umbrellas protruding from its sides while its young leader dances in a crepe-paper skirt.
During other parts of the morning, llamas have worn little blue bonnets atop their heads, which look a bit like a camel's and are capable of spitting like one too. They have been led through a plastic kiddie pool minus the water. They have walked atop a wooden teeter-totter. They have been forced to step through children's hula-hoops.
Hula-hoops for coyote killers, for crying out loud.
What the heck is going on here? Well, it is the 4-H llama show at the Douglas County Fair. In other words, a livestock show that has been crossbred with "The Gong Show."
Perhaps this scene will put it in perspective. Llama show judge and Lawrence resident Carrie Mershon is telling the crowd how the next contest is designed to simulate what a llama may experience on a trail. At that very moment, a man is setting up two coat-rack like poles on the "trail." Each pole has attached to it numerous pool floaties — you know, those colorful foam tubes that are designed to keep children afloat in a swimming pool but also double as a pummeling device. Come to find out, the llamas must walk between the poles while the floaties do a number upon the llama's head and neck.
If I have learned one thing from this llama show, it is this: If you ever find yourself on a llama trail, be afraid, very afraid.
Actually, I take it back. I'm pretty sure I've also learned why llamas kick coyotes to death: frustration.
lll
Perhaps 7-year-old Matthew Kelso knew it would come to this — llamas on playground equipment — when his mother drug him to his first 4-H meeting.
"I kicked and screamed the whole way," Kelso said.
Kelso is no longer a 7-year-old. He is a recent graduate of Eudora High School, and is heading off to Kansas State University. That makes this his last Douglas County Fair as a 4-H'er. He is one of just four participants in this year's llama show, but Kelso also is competing in 10 other categories — ranging from rabbits to cookies — this fair season.
His last act as a 4-H'er will come on Saturday, as he participates in the annual livestock auction where club members sell their animals. (Kelso will be selling a steer, not the llama, which will be shown by his younger brother next year.)
It has long been known the first auction for a 4-H'er is tough.
"The young kids get attached to their animals and when that animal leaves the auction ring, they know they'll never see it again," Kelso said.
Come to find out, last auctions aren't too easy either.
"At the auction, you see your whole summer's worth of work come to an end in about five minutes' time," Kelso said. "For me, it will be 12 years that come to an end."
lll
Llama judge Mershon tells the crowd that the next event will demonstrate the "public relations" skills of llamas. She said surprisingly llamas are pros at the art of P.R. and are great out in the community, which led me to believe that perhaps a llama was going to be the next chair of the United Way fundraising drive or something like that.
But no, Mershon clarifies that she means llamas are wonderful at being shown at educational events at schools, nursing homes, hospitals and such. The next event is designed to highlight those skills. It is during this event that a blue bonnet is tied to the head of the llama. This is meant to simulate … well, really, I don't know what that simulates.
But other tasks are more self-evident. At one station a child jumps out of a chair and takes a picture of the llama. At another station, the llama stops while its leader shuffles through a deck of playing cards. This, of course, is to train the llama to be a participant in the community event known as the World Series of Poker, where a llama almost certainly would be a tough competitor to stare down across a table.
Actually, I'm now told, llamas are not learning to play poker. The point of the exercise was to show how still a llama could stand while its owner sorted through a deck of cards to find the queen of hearts.
Llamas can be trained to be patient, but Mershon said they also can train their owners to be patient. In fact, that may be one of their greatest gifts.
"Working with llamas translates well to dealing with people," Mershon said. "It teaches you to regulate your emotions because if you get impatient and stressed, the llamas are going to get stressed."
But Mershon said that's why she believes properly training a llama can be more rewarding than any other type of livestock activity. You're not just building muscle memory when you train a llama. You're also learning to build something that comes in pretty handy outside a llama ring.
"We don't just do these obstacles because they're fun," Mershon said. "It really is about learning how to build trust. When you get llamas to do all these things that are unnatural to them, they do it because they trust their leaders."
lll
It is the final minutes of Kelso's final llama show. Kelso already has been named grand champion in three of the four categories held so far.

He and his llama, Spirit, excelled on the obstacle course, they were pros in the public relations division, and they easily conquered the pool floaties in the pack category.
So, it has come down to this: the costume category. Yes, the llama show has one event that organizers don't really even attempt to explain. The costume category — where both the animal and its leader wear a themed outfit — isn't officially recognized by the organization that sanctions llama shows, the judge notes.
"But it sure is fun," Mershon quickly tells the crowd.
Kelso is the final performer of the show, and he comes dressed in a Blues Brothers outfit and has the movie's famous theme song blaring over the ring's PA system. But wait a second, the llama is wearing an actual suit jacket as well — two llama hoofs sticking out of a buttoned blazer.
Kelso wins his final grand champion llama ribbon, and extra words of praise from Mershon.
"Wow," Mershon says. "I don't know if I have ever seen anyone get a jacket on a llama."
Well, there was that Christmas party … but no, I don't think I have either. Kelso and his llama started practicing it three times a week all summer long.
The fact that it actually worked on show day clearly makes him proud, and causes his mind to flash back to the beginning.
"It is fun," Kelso said, "to think back to that quiet 7-year-old and to look at what I am today."

A man who puts a jacket on a llama.
But that is fitting. In a sense, that is what 4-H is all about.
"When I joined 4-H, I tried something new," Kelso said. "I wasn't quite sure I would like it, but I've loved it. Every 4-H'er, everybody really, should be willing to try something new."
As for what the llamas thought of all this, I think they're looking for a coyote to kick.
— City reporter Chad Lawhorn can be reached at 832-6362. Follow him at Twitter.com/clawhorn_ljw
Copyright 2018 The Lawrence Journal-World. All rights reserved. This material may not be published, broadcast, rewritten or redistributed. We strive to uphold our values for every story published.