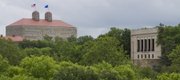 Subscribe to the email edition of Heard on the Hill and we'll deliver you the latest KU news and notes every weekday at noon.
Your daily dose of news, notes and links from around Kansas University.
• I spotted that the KU Panhellenic Association recently tweeted out the grade report for KU's fraternities and sororities for the spring 2012 semester.
The greek system frequently touts its higher GPAs than the university at large as a recruiting tool.
The 1,751 sorority members earned a cumulative 3.19 GPA last semester, while the 1,326 fraternity members earned a 2.97.
The universitywide statistics aren't out yet, but greek GPAs are traditionally higher.
The two greek organizations with the highest GPA were Beta Theta Pi fraternity and Chi Omega sorority, which both earned 3.46.
The two with the lowest were Alpha Kappa Lambda and Kappa Alpha Psi fraternities, which earned GPAs of 2.42 and 2.14, respectively.
• The latest word from the KU Information Technology department is that KU is continuing to expand its wireless service.
Coming soon, more outside areas, including Wescoe Beach and Potter Lake.
You can track the expansion of wireless service here.
Also new this year is a service that allows students to remotely print a document from anywhere.
David Day, who works in communications at KU Information Technology, told me how it works. Students can send a document to a printer queue at a specific building using a website. They then go to any available printer in the building, log in using their KU Online ID, and the document will print for them.
The service is new this summer, Day told me.
• If life has got you down, you really should just smile more often.
The whole "grin and bear it" approach is advocated by a couple of KU researchers, according to an article in the United Kingdom's The Telegraph newspaper.
Tara Kraft, a KU graduate student in psychology, and Sarah Pressman, an assistant professor of psychology, published the research in the journal Psychological Science.
During stressful tasks, people who were smiling had lower heart rates after recovery from stressful activity.
Most interesting to me was how they got 169 participants from a Midwestern university (maybe the one here in town?) to smile without knowing they were smiling.
The researchers asked the participants to manipulate their facial muscles in a certain way by using chopsticks.
"Age old adages, such as 'grin and bear it' have suggested smiling to be not only an important nonverbal indicator of happiness but also wishfully promotes smiling as a panacea for life's stressful events," Kraft said, according to The Telegraph.
• Tips for Heard on the Hill always make me smile, so do my heart a favor by sending me some good ones at ahyland@ljworld.com.
Copyright 2018 The Lawrence Journal-World. All rights reserved. This material may not be published, broadcast, rewritten or redistributed. We strive to uphold our values for every story published.