Mason jar 101
As ubiquitous as they are, mason jars can be found just about anywhere, from the grocery store to the hardware store to the wilds of the Internet.
And along with their accessibility and inherent versatility, there are also many, many kinds to choose from.
A primer:
Styles: Mason jars come in two basic styles, regular and wide-mouth. Make sure your lids/purpose match your jars' mouth size. Use two-piece canning lids or plastic caps, found at the hardware store or online.
Sizes: Mason jars come in a range of sizes, typically ranging from 4 ounces to half-gallon, though antique and speciality shops might have different sizes. The most popular sizes for general use are the pint and quart sizes.
Designs: You can find plain glasses or those with designs like grapes or diamond-panes.
Brands: The most popular brands in the United States are Ball and Kerr, and they happen to be made by the same company, Jarden Home Brands. (Yes, it's true). Though, there are also some popular European options, including Bormioli.
BPA: That worrisome chemical, BPA, has been found in the white coating several common metal canning jar lids (including those made by the company, Jarden, that owns Ball and Kerr). Though BPA shouldn't be a danger unless heated, to play it safe, you can find BPA-free, reusable lids from Tattler and Lehman's.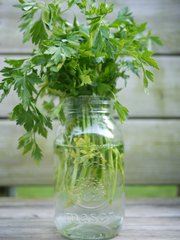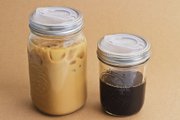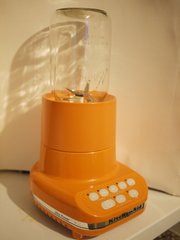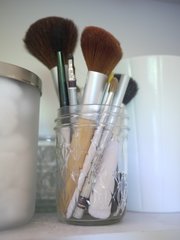 It used to be a little cottage-y and quaint to have a cupboard full of lid-free mason jars.
You know, like you can preserves yourself in a kitchen decked out with roosters and red-and-white checked textiles, and then enjoy the final product on toast made from homemade bread, served with a side of orange juice in last year's preserves jar. (A pie on the window sill completes the picture, no?)
Well, these days mason jars aren't just for canning or for people going for that retro kitchen feel.
Today they're smoothie transporters, coffee cups, organizing implements, lighting fixtures, vases and much, much more. It seems their cost-effective nature — one flat of 12 pint jars will set you back about $10 — and versatility have made them a favorite among the young and old, hip and not-so-hip, and eco-mommy set in this post-BPA world.
Buy a flat and the sky's the limit, but just in case you need some inspiration, we found 10 great uses for the little glasses that could.
Lunch containers. Before there was the tiffin, there was the mason jar. Get yourself a wide-mouth container or two and make a quart-sized salad, or cold pasta dish just by layering the ingredients.

Organizing tools. Mason jars make natural storage for pantry goods like dried beans and grains, and even large, wide-mouth jars can hold items like sugar and flour. Bonus: Rather than labeling each with a sticky label, you can write on the mason jar with permanent marker or grease pencil that will scrub off later. These also work well in storing garage items like nuts, bolts, washers and other small fix-it-type items.

Vases. They're basic and pretty. It's a no-brainer to make an instant vase by filling a mason jar with water and insert some pretty flowers. But you can take the idea one step further by decorating a mason jar or two for a pretty effect. Try painting with chalkboard paint for extra fun and usefulness, or using stencils or lace and spray-paint to create pretty patterns.

Lanterns. Small half-pint mason jars or larger jars backfilled with stones make pretty homes for tea lights or small candles. Use them indoors for a special dinnertime centerpiece or use them as outdoor lighting for a barbecue. Not sure about dealing with the candles? You can get the same effect by filling them with white Christmas lights. Just group them together on a table, coil a length of lights through and then hide the cord.

Chandeliers. If you're feeling especially crafty or happen to know someone who's good with wiring, the Internet abounds with fine directions for making your own chandelier or basic light fixture out of mason jars. Typically, one small bulb per light works well when grouping several lights together into a chandelier-type structure. This can create both a custom and retro look at a decent price. Check out a step-by-step tutorial at The Cheney's House to Home blog.

Coffee cups. Obviously, mason jars are great as drinking glasses. But, once they're lid-free, they're not exactly the best spill-proof beverage container. This is also a huge problem if you want to transport something hot to warm like coffee, tea or soup. That said, some smart people at a company called Cuppow have come up with a perfect solution: a special reusable, lipped BPA-free lid that screws in in place of the "flat" lid portion of your mason jar. Basically, you're screwing in place a lid much like the ones on coffee to-go cups, making your drink spill-proof but easily accessible. Thus, you can turn your everyday wide-mouthed mason jar into a coffee cup that can be used in place of disposable or traditional coffee mugs at coffee shops. If you want to try a hot drink, Cuppow did a round-up of coozies for mason jars.

Smoothies to go. Not only are these cups perfect for carting smoothies around — when lidded, they are spillproof and it's easy to keep your smoothie the right consistency with a little shake — there are even some blenders, such as the Tribest Mason Jar Personal Blender, equipped expressly for the mason jar smoothie experience. All you have to do is to screw your mason jar directly into the blender base and blend away. That means no smoothie spilled in blender-to-cup transfer and few things to clean. To use your standard blender with a mason jar, check out the SimplyRecipes.com how-to.

Flower/herb pots. Mason jars work as vases not only for cut flowers, but they can also work for plants with actual root systems. The only element needed to make this transition happen? Drainage. Because the jars are enclosed and you won't have much luck drilling holes in them, here's how you make this happen: fill the bottom with rocks or terra-cotta shards of broken pottery. This layer will keep the plant from being waterlogged and suffocated. Put an inch or two of rocks/pottery in the base of a wide-mouthed quart or pint jar. Backfill with potting soil and then transplant a smallish plant into the jar (a single flower or small herb works). Voila!

Medicine cabinet. Don't have a medicine cabinet, or is your bathroom space-challenged? Mount mason jars on a wall make by attaching pipe clamps to a strip of wood and securing the clamp around the jar. It's the perfect way to store makeup or hairbrushes, and they work great as catch-alls for little things like bobby pins and hair ties. The same concept will work well for craft supplies, where you can separate out brushes of all sizes or other useful objects. For a how-to on mounting the jars, visit the Liz Marie Blog.

Barware. Having guests over and don't want to deal with plastic cups and making drinks to order? Try making your gin-and-tonics or rum and cokes ahead of time and keeping them chilled in lidded mason jars before and during the party. Everyone can take a jar, shake it up and then add ice or whatnot to customize his or her drink. Less mess, less waste and more time spent mingling as a host rather than behind the counter playing bartender. (This idea also works well for kids' parties — just put lemonade or apple juice in the cups and let each child pick his or her own drink.)
Copyright 2018 The Lawrence Journal-World. All rights reserved. This material may not be published, broadcast, rewritten or redistributed. We strive to uphold our values for every story published.