There was more bad news on the scoreboard, but some positive information on the injury front Saturday night at Hoglund Ballpark.
No. 23-ranked Oklahoma, which handcuffed Kansas University's baseball team, 4-1, on Friday night, again silenced KU's bats in an 8-2 victory in Game Two of the series. However, it was revealed before Saturday's game that senior third baseman Zac Elgie, who broke his left pinkie while sliding on a triple Friday night, might miss just two weeks.
The Minot, N.D., standout figures to be listed as questionable for season-ending series against Kansas State (May 11-13) and Missouri (May 17-19).
"They'll X-ray it each of the next two weeks. If it heals enough they can buddy tape it and (if he can) stand the pain, he's going to try to play the last couple weeks of the season," KU coach Ritch Price said.
The Jayhawks, of course, are hoping their season extends into the Big 12 Tournament.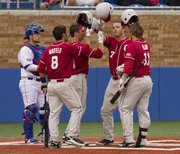 KU enters today's noon series final against Oklahoma tied with Texas Tech for seventh in the nine-team league at 4-13. Kansas State is in last place at 3-14. Only eight teams advance to the postseason tourney.
"It's been a struggle for us all year," Price said of the Jayhawks getting the clutch hit in league games. On Saturday, down just 3-1, KU wasted opportunities in the seventh and eighth. James Stanfield hit into an inning-ending double play in the seventh; Connor McKay and Michael Suiter popped up with two men on in the eighth.
"We make progress, then we have nights like tonight where their guy dominated us with the fastball in. I tip my cap to them; throwing 95. He did a good job getting in on our guys and dominating us," Price said.
OU sophomore starting pitcher Jonathan Gray (4-4), who was clocked at 97 mph, struck out six, walked four, allowed four hits and stranded six men on base in his 6 1/3 innings. Steven Okert, who enticed Stanfield to hit into the DP, was perfect in 1 2/3 innings with Jacob Rhame mopping up after OU plated five insurance runs in the ninth.
"It's something we've not seen much this year, (somebody) that fast," Stanfield said. "It all gets down to being ready to hit. We had some opportunities. We didn't clutch up. We'll get after them tomorrow."
Max White had a three-run homer in the fifth off Wes Benjamin (2-6) and five RBIs for OU, 28-16 overall and 9-8 in the Big 12. Stanfield was 3-5 with an RBI, while Kevin Kuntz had two hits for KU, 17-27, 4-13.
"Anytime you are playing somebody in the Top 25 ... we need to pick up a 'W' and stay in contention and give ourselves an opportunity to get in the thing late," Price said.
Copyright 2018 The Lawrence Journal-World. All rights reserved. This material may not be published, broadcast, rewritten or redistributed. We strive to uphold our values for every story published.