Danny Lenz is the kind of guy who is there when you have a question. He'll stick by your side if your parents can't make it to a game and tease you when you've done something silly. And, he's always the one standing on the sideline cheering.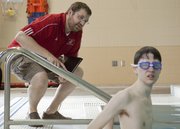 That's according to Lisa Young, one of the athletes in the Douglas County Special Olympics program.
"He is like a big brother," Young said.
Lenz is program director for the Douglas County Special Olympics program. And he has been "adopted" as a big brother by many.
Sherrie and Larry Saathoff's daughter Becky competes in just about every sport the program has to offer and they consider Lenz to be like a son to them.
"Becky sometimes gets confused and calls him her stepbrother," Sherrie Saathoff said. "But she considers him her brother and he considers her his sister."
As the local program director Lenz is the one who sets up team rosters, makes sure facilities are available for practices and schedules the bus trips for out-of-town tournaments. He's at nearly every practice and uses about a week of vacation time every year to attend Special Olympics events.
"He's the driver," Connie Warkins said of Lenz's involvement in an organization that has more than 100 athletes and nearly a dozen sports.
Saathoff recruited Lenz into Special Olympics when he was a student working part-time in Kansas University's special education department. Saathoff was looking for a soccer coach and Lenz had played soccer competitively in high school and for fun in college.
Lenz agreed to coach and loved it.
"That was it, we roped him in," Saathoff said.
That winter he went on to coach basketball and stuck around for track and swimming in the spring. By summer, he had been asked to be the program's sports coordinator.
"It was my first opportunity in a leadership position in any sort of an organization," Lenz said.
Lenz has no children in Special Olympics and the many hours he puts into the program are 100-percent volunteer. The 30-year-old's day job is with the budget and financial planning office for Johnson County government.
"He gives up a lot of his time," Warkins said. "There would be a lot of people that would be out (partying) at that age."
As much as he has given the athletes, Lenz said he has benefited just as much in return.
"It's given me confidence and an opportunity to see what I could do and to develop in an environment where the parents never criticized me," he said.
Working with people who have disabilities is a family affair for Lenz. His father earned a Ph.D. in special education at KU. His mother has worked with the special populations through the city of Lawrence's Parks and Recreation Department. And, his brother organizes the parks and rec's special population sports leagues.
But, probably the most influential person was Lenz's aunt, who had Down's syndrome. Although the two were more than 10 years apart in age, when Lenz was a preteen, they had both reached a similar level of maturity.
"We used to bicker and bicker and bicker, just like siblings," Lenz said.
But having his aunt in his life also taught him important social cues.
"It probably made it easier to grow up with someone with special needs. You understand immediately how to interact and joke around."
Parents and athletes alike note Lenz's ability to connect with the athletes.
"He is just a fun guy. He jokes around with them and by joking around he has built their respect and they want to do well for him," Saathoff said.
In a sense, Lenz has grown up with some of the athletes. Saathoff's daughter Becky sat beside him in elementary school. And, Warkins' daughter Jessie was a student in his mother's classroom when she was a para educator at Hillcrest. The two still routinely see each other.
"I think he really loves the athletes and really enjoys it," Warkins said.
Over the years, Lenz has had a mixture of funny, heartwarming and triumphant experiences. There was the athlete who in the middle of a close volleyball match reached down to pick up a penny just as the ball was headed toward him. And he remembers a race where an athlete approached the finish line close to tears because he was so exhausted from running as hard as he could.
Lenz remembers the excitement of hearing that one of his athletes — weight lifter Brady Tanner — was headed to the Special Olympics World Games. And this winter, he watched a Douglas County team play at the Kansas City Municipal Auditorium during the halftime of women basketball's Big 12 championship game.
"They were loving it, absolutely loving it," he said.
From the start, Lenz said he was impressed with just how athletic the Special Olympic participants were.
"You don't really expect athletes to do what they are able to do when you first get there," he said.
And, he is always surprised by just how invested he becomes in their performances.
"You'd never think you'd get as excited as you do. It'll be a close basketball game and I'll be screaming at the top of my lungs and then I'll look at myself afterward and think I probably need to tone it down a little bit," he said.
Parents say Special Olympics is about so much more that competing. Through sports, athletes make friends, come out of their shell and see a world beyond Lawrence.
And for Saathoff, Lenz is the one who makes that opportunity possible for the athletes with special needs in Douglas County.
"He just doesn't get the credit he deserves," Saathoff said. "He is an amazing person and what he has done for so many people goes unrecognized. We are so appreciative."
— Reporter Christine Metz can be reached at 832-6352.
Copyright 2018 The Lawrence Journal-World. All rights reserved. This material may not be published, broadcast, rewritten or redistributed. We strive to uphold our values for every story published.