With the fast pace of today's on-the-go world, people often complain that there isn't enough time to do everything they want.
These people aren't Carolyn Landgrebe.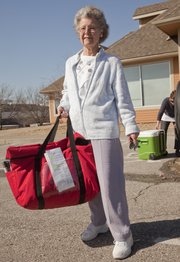 Landgrebe has been volunteering for multiple organizations around Lawrence for decades. Even before she retired in 1998 from her job as a first-grade reading teacher at New York School, Landgrebe has been involved in a plethora of organizations around town, including as a driver for Meals on Wheels since its inception in 1970. Since retirement, she's driven an average of 2,000 miles per year for the organization. She also trains the group's new drivers.
"I'm actively involved with Meals on Wheels," she says. "It really has been my baby since whenever Meals on Wheels started. When I went to full-time teaching, I did it in the summer. Now that I'm retired, I do it every day."
John Priddle, chair of the Meals on Wheels board of directors, says Landgrebe is devoted to helping people.
"She just enjoys doing it; it fulfills her personality requirements. It's just a good thing for the rest of us that there are people like this in the world. (Without her) it would be different, for sure.
"I thoroughly believe she's a wonderful, Christian person, who goes out of her way to help whomever she can," he says. "I'm sure she's a great neighbor and member of her church and community."
Landgrebe also spends time at Presbyterian Manor, volunteering her time with residents five days a week; assists the Lawrence Interdenominational Nutrition Kitchen (LINK); is a holiday bell ringer for the Salvation Army; and donates food to nonprofit organizations for needy families. In the past, she has volunteered as director of the Home Lending Library Reading Program at New York School and was awarded the Service to Mankind Award from the Lawrence Sertoma Club in 2009.
"I volunteer because I like to help other people," Landgrebe says. "I enjoy other people and I like to help them. It's not necessarily to make them happy, but to help them enjoy life. Well, make them happy, too, I guess."
Landgrebe, 74, says she enjoys helping out the elderly residents of Presbyterian Manor, speaking with them and offering friendship. She says she bonded with residents while she was there visiting a family member.
"When my husband's mother was here and was in Presbyterian Manor, the skilled nursing section, I became quite attached to the folks up there, so after she passed away I continued to stay on. It's been about six years now. They asked if I wanted to be a Friendly Volunteer, for folks that don't have family here. I go every day in the afternoon and visit with certain people."
Maclyn Pettengill, marketing director at Presbyterian Manor, says Landgrebe's work with the facility's residents is invaluable, as Landgrebe adds a personal touch and a smile to brighten residents' days.
"She comes by, she is so faithful," Pettengill says. "She comes by every day of the week and she's here about two hours. She's just a ray of sunshine to a lot of our residents. When a volunteer comes in, they're here because they really want to be. Carolyn gets to know each of (the residents she works with) individually ... . She gets to know all of the little quirks about them and how to relate with them. She goes in on a one-to-one basis, so they have a visitor and this is someone she truly enjoys visiting with."
Pettengill says Landgrebe befriended her mother while she was at Presbyterian Manor, and it was obvious how much Landgrebe cares about those she volunteers for.
"She visited my mother, and she got to know my mother as closely as my mother's friends from where she'd lived for 20 years. She was so special for my mother. She'd always talk so cheerily about Carolyn's visits."
Landgrebe says her sense of Christian faith and also the sense of community she has in Lawrence are major reasons that she and her husband, Jack, a retired chemistry professor at Kansas University, still live here and still want to help out those in need.
"We've lived here in the community ever since we came here as a bride and groom, and that was 50 years ago. We really enjoy this community. We came from San Francisco, so it was quite a difference, but we wouldn't trade Lawrence. We like the value system and just the city, period. I'm very grateful we were able to raise our children here in Lawrence, and we'll stay here as long as the good Lord will let us."
Copyright 2018 The Lawrence Journal-World. All rights reserved. This material may not be published, broadcast, rewritten or redistributed. We strive to uphold our values for every story published.