Joe Jones was the first person in the state to be exonerated of a crime by DNA evidence, but life after prison has been difficult. Now authorities have identified the man they say is responsible.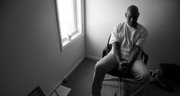 -->
-->
• Aug. 24, 1985: A Topeka woman is kidnapped at knifepoint in front a club at 916 Kansas Ave., taken to a remote location and raped.
• Aug. 25, 1985: Two eyewitness from the crime the night before spot Joe Jones walking on Kansas Avenue, identify him as the attacker and call police. Jones is arrested and booked into Shawnee County Jail.
• Nov. 11, 1985: A Shawnee County jury finds Jones guilty of the kidnapping, rape and assault. He's sentenced to 10 years to life.
• Dec. 7, 1985: Joel Russell, Topeka, is arrested by Topeka police and convicted of burglary, assault, robbery and kidnapping. Russell is sentenced up to 30 years in prison for crimes on Nov. 18, Dec. 1 and Dec. 7. All of the crimes involved Russell robbing or kidnapping women at knifepoint.
• March 4, 1987: Jones' attorneys file a motion for a new trial, arguing that Russell is the real rapist. That motion is denied.
• July 16, 1990: Russell is paroled.
• Nov. 26, 1990: Jones' attorneys file a motion to have the rape kit tested for DNA evidence. That motion is approved, and the evidence is sent to Forensic Science Associates for DNA testing.
• July/August 1992: Russell is accused of, and later convicted of, several sex crimes against minors in Reno County and sentenced to 35 years to life.
• July 17, 1992: DNA testing exonerates Jones as the rapist, the charges are dismissed and Jones is released from prison.
• 1993: Jones is given $350,000 from the Kansas Legislature for his wrongful conviction and incarceration.
• April 10, 1998: Jones is arrested in Topeka for drug possession and sentenced to one year in prison. The arrest and conviction was the first of several spanning the next decade.
• Oct. 29, 2011: A Journal-World article features Jones and his case, and also identifies DNA evidence that could still be tested.
• Oct. 30, 2011: Topeka police re-open Jones' case, based on the Journal-World story.
• March 7, 2012: Topeka police are able to retest the DNA from the 1985 crime, and it matches a DNA profile in the national DNA databank.
• April 19, 2012: Topeka Police Chief Ronald Miller announces the DNA test identified Joel Russell as a suspect in the case. The Shawnee County District Attorney's Office issues a warrant for Russell's arrest for rape.
• June 2012: Russell's earliest eligible parole date.
Copyright 2018 The Lawrence Journal-World. All rights reserved. This material may not be published, broadcast, rewritten or redistributed. We strive to uphold our values for every story published.