The key to identifying Kansas inmate Joel Russell as a suspect in a 1985 unsolved rape sat in the Kansas Bureau of Investigation's evidence vault for two decades.
In 1992, the evidence — a rape kit — was tested and the results confirmed the Topeka man serving a prison term for the rape was innocent. That test led to Joe Jones' freedom.
But in the intervening years, no one asked for another test that could have identified another suspect. In 1992, there wasn't a DNA databank, so the information couldn't be entered and produce a "cold hit" as it eventually did in this case.
But why wasn't the DNA retested sooner?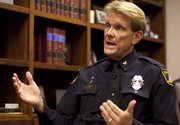 Joe Jones was the first person in the state to be exonerated of a crime by DNA evidence, but life after prison has been difficult. Now authorities have identified the man they say is responsible.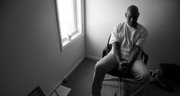 -->
-->
"I don't know that I can explain why it took so long," said Topeka Police Chief Ronald Miller.
During preparation of an October story about Jones, the Journal-World learned evidence in the case had been preserved, and could possibly still be tested. A day after the story was published, the Topeka Police Cold Case Unit reopened the rape case and later produced the DNA profile match with Russell.
There's an unknown number of such evidence kits across the country — all with the key to solving other cold cases — that sit untested, as in the Russell case, said Scott Berkowitz, president of the Rape, Abuse and Incest National Network.
"It's a big national problem," he said.
Berkowitz places untested DNA evidence into two categories.
First, there are those piled up as part of DNA lab backlogs. At the KBI lab for instance, the backlog is at about 230 cases, some go back to 2004, said Kyle Smith, KBI deputy director. The KBI must prioritize cases because of limited resources, and first test cases with upcoming trial dates. Those cases with no suspect also get pushed back, Smith said.
The larger issue, said Berkowitz, are the cases like Russell's, where no one is even looking.
"Most of the backlog is hidden," he said.
Berkowitz said it's easy to imagine an old unsolved rape or murder case that happened in a rural area decades ago. Detectives, police chiefs and family members of victims move away or die. And no one makes the move to see what old evidence, if any, might bring closure to a case.
But it comes down to resources, and knowing where to look.
Berkowitz's organization is pushing for the passage of the Sexual Assault Forensic Evidence Registry Act, which was introduced in Congress this year. The act would push local law enforcement agencies to identify untested evidence collected and stored well before DNA testing became an option in the early 1990s.
"We're not getting justice" without such measures, Berkowitz said. "At least we'll know."
Miller said the Jones' case could prompt Topeka police to search for similar evidence in other cold cases.
"There may be other cases we need to look at," he said.
— Reporter Shaun Hittle can be reached at 832-7173. Follow him at Twitter.com/shaunhittle.
Copyright 2018 The Lawrence Journal-World. All rights reserved. This material may not be published, broadcast, rewritten or redistributed. We strive to uphold our values for every story published.