If you don't know where it is, the piano shop in Room 232 of Murphy Hall isn't all that easy to find. The signs on the wall sure won't help you get there.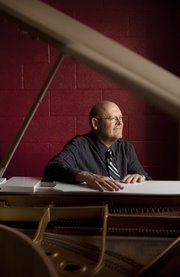 But once you get to the big room at the end of the hall, you'll find not just pianos and various piano innards.
You're also likely to find Tom Eversole, the man responsible for tuning and maintaining the more than 130 pianos at the Kansas University School of Music.
You might also get a few yaps from two Chihuahuas — the shop dogs, Eversole said.
"Every shop has to have the shop dogs and a pin-up girl," he said, pointing to a poster of Marilyn Monroe.
Eversole has been in the piano tuning and repair business in Lawrence for decades, owning a shop in The Malls shopping center before being hired at KU in 2003.
He talks about pianos the way a mechanic would talk about cars, referring to 1928 Steinways.
Eversole, 67, said he thought he knew what he was doing after 10 years in the business. But after 40 years or so, he's still picking up new tricks.
"A piano has 10,000 parts," he said. "It has geometry going on, alignments of parts, angles and metrics."
And when a note goes "doink" instead of a melodious "daaaaa," everyone in the school calls on Tom. He's the guy who figures out why.
People might be surprised as to how little people who play the piano know about how a piano actually works, said Melissa Warren, a longtime assistant of Eversole's.
Eversole also looks after the pianos all over the university.
There's that piano on the fourth floor of the Kansas Union, of course, that gets a lot of traffic. And there are two concert pianos at the Lied Center. Kansas Public Radio has a piano. A piano in the chancellor's residence used to belong to major university benefactor Elizabeth Watkins.
Eversole makes sure those are functioning properly, too.
Warren said Eversole often will field phone calls from people wanting to sell pianos to the school. KU typically won't buy them, but many times Eversole convinces people to donate them to the school, she said.
Eversole admits there's some diplomacy to his job.
"So many times, he's dealing with people who are under a high amount of stress," said Robert Walzel, the dean of KU's music school.
"He's able to handle it in a cheerful way."
Sometimes, Eversole said, people just might be tempted to blame the instrument when something goes wrong. Eversole hesitates a bit before relaying something an old teacher once told him. He's clear that these are the teacher's words and not his own.
"Eighty percent of what's wrong with a piano is who is playing it," he said.
He said he enjoys working with students and faculty, especially those who take some time to learn a bit about his craft.
The hours can be a bit unpredictable. A school of music isn't the easiest place to be if you're a piano tuner, with students spending many hours working on their Rachmaninoff. Sometimes Eversole comes in at 5:30 a.m. to beat the crowds to the rehearsal rooms, he said.
Those two concert Steinways over at the Lied Center take special attention before a big performance. The stakes are high, and the mark of a job well done for him will be if no one notices that he was there at all.
He's tuned for all sorts of folks, including Sonny and Cher and Herbie Hancock.
At a major concert, he's mostly concerned with what he calls "tuning stability." That's a somewhat fancy way of saying the piano has to sound just as good at the end of the concert as it did in the beginning.
"I'm like the pit guy in NASCAR," Eversole said. "What I can do in the background to make that performance really shine, I get a lot of satisfaction from that."
Copyright 2018 The Lawrence Journal-World. All rights reserved. This material may not be published, broadcast, rewritten or redistributed. We strive to uphold our values for every story published.