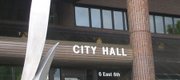 Subscribe to the email edition of Town Talk and we'll deliver you the latest city news and notes every weekday at noon.
News and notes from around town:
• Well, the good news is … Lawrence homebuilders are staying busier than they were a year ago. New numbers from the city show the number of building permits for single-family and duplex projects are on the upswing.
Through the first quarter of the year, the city has issued permits for 31 living units, which outpaces the 23 it issued during the first quarter of 2011.
In fact, 2012 first quarter totals are better than any of the last five years — except for 2010 when permits for 51 living units were issued.
If you remember, last year was an ugly year for the homebuilding industry in Lawrence. Last year was the first year since at least 1956 that Lawrence builders failed to start 100 or more new single-family homes. In other words, the industry hit a historic low in 2011. The first quarter numbers provide some hope that the industry has found its bottom and is starting to climb back up.
But January through March is not the season that builders make their hay. These next few months are traditionally when more housing permits are pulled, so we'll see what the future brings.
In terms of total projects started, the city has issued permits for $13.8 million worth of projects, which is nearly identical to the $13.9 million issued in the first quarter of 2011.
But if you are looking for bad news (not that anyone on this message board ever does), technically the first quarter of 2012, checks in with the smallest project total of the last five years. This is how the $13.8 million worth of projects in 2012 compares:
— $13.9 million in 2011.
— $16.1 million in 2010.
— $21.7 million in 2009.
— $18.4 million in 2008.
If that doesn't satisfy your bad news quotient, read on.
• Well, the bad news is … Lawrence real estate agents have been less busy than they were a year ago. At least, they're not recording as many sales as they did during the first quarter of 2011. I keep hearing that activity in the Lawrence real estate market is picking up. But for the most part, that's not showing up in the sales totals released by the Lawrence Board of Realtors.
The latest report found homes sales for March were down 5.8 percent compared to a year ago — 81 sales in March 2012 compared to 86 in March 2011. For the year, home sales are down 7.6 percent — 183 sales in the first quarter of 2012 vs. 198 in the first quarter of 2011.
A bit of good news is that sales of newly constructed homes are up. Realtors have totaled 13 new home sales in the first quarter compared to nine during the same period a year ago.
But in general, the March report is disappointing. February home sales were up for the month. That ended a streak of five straight months where home sales were down from the same period a year earlier. That, along with reports that Realtors were doing lots of showings, led to optimism that the market may finally be turning around.
And it still may be. The March numbers may just be a temporary setback. I contend that once we see three months in a row of improved home sales, we'll be able to say with much greater confidence that a turnaround is underway.
Other numbers from the March home sales report include:
• The average number of days on market for homes was basically unchanged in the first quarter at 107 days, compared to 106 a year ago.
• The number of active listings on the market in March totaled 920, down from 932 a year ago.
• The median sales prices for homes in the first quarter checked in at $155,000, up from $148,200 a year earlier. But a word of caution, sales prices are more of a reflection of the specific types of houses for sale at any given moment rather than a reflection of overall real estate values.
• One last item about homes sales and building numbers. You have a chance later this week to make everything I've just reported irrelevant.
The Lawrence Home Builders Association will host its Spring Parade of Homes on Saturday and Sunday and again on May 5-6. There will be 17 new homes on the tour. Go buy all of them, and I won't be writing such sad sack stories about the building and real estate market. Of course, you'll need to buy that many every month to make it an actual trend … but we'll cross that bridge when we get there.
The parade will run from noon to 5 p.m. on both weekends. Prices range from $164,900 to $509,000. For a complete list of homes, and a map, go to www.lawrenceparade.com.
Copyright 2018 The Lawrence Journal-World. All rights reserved. This material may not be published, broadcast, rewritten or redistributed. We strive to uphold our values for every story published.