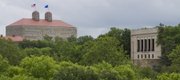 Subscribe to the email edition of Heard on the Hill and we'll deliver you the latest KU news and notes every weekday at noon.
Your daily dose of news, notes and links from around Kansas University.
• It looks like college-age voters are being heavily courted by the major presidential candidates this election cycle.
Democratic President Barack Obama has been skipping across the country at various universities hyping his plan to keep the interest on federally subsidized loans from doubling in July. (That rate, by the way, would apply only to people taking out new loans).
His likely opponent in November, Republican Mitt Romney, has said he actually agrees with the president on this one, though it may be an uphill battle with some Republican members of Congress.
It'll be interesting to watch to see where this goes, along with any other issues that may rise to the top affecting college-age voters this year.
• Jose Ordonez, a second-year KU law student, certainly seems to enjoy his iPhone.
In a KU School of Law blog post, he outlined some of the applications he uses to help get through law school.
There's the Weather Channel, of course, and a map application to determine what time the bus zips by his house. The ever-present course management software Blackboard has an app, naturally.
But one application Ordonez seems to particularly enjoy is Evernote, which he uses in a whole bunch of ways.
He can use his computer to copy text and insert it into the app, where he can search the text for specific terms (useful, he said, when his prof asks an easy question).
The app will also read text to him (useful, he said, when he's literally running late to class).
The phone also serves as his music hub and a bunch of other stuff, too. In other words, studying is a whole lot different than when it was done using those crazy old-fashioned things called "books."
• Coming up this weekend is the 15th annual Undergraduate Research Symposium, which is always good for some interesting projects. Just looking at the list of topics reveals some undergraduates who have been working on some rather wild stuff.
Santiago Ferreira Achon will talk about "Neon Drums: An Audiovisual Musical Instrument." Kimberly Scherman will talk about student farms, Cherae Clark will discuss creating new representations of lesbians in fiction and Elizabeth Jarvis will talk about Italian mental health care.
It's a whole wide variety of stuff, to say the least. And that's before we even get to the stuff I don't have a prayer of understanding. Take Paige Monnet, for example, whose talk is entitled "Mechanism for the Sustained Contraction of Blood Vessels by Thromboxane A2."
While I'm sure that makes for a good research topic, I'd better not try and explain that one any further while I'm still ahead.
The whole thing kicks off at 1 p.m. Saturday at the Big 12 Room in the Kansas Union.
• Heard on the Hill has been Thromboxane A2-free since 2010, but it's chock full of your good tips that I hope you'll keep sending my way at ahyland@ljworld.com.
Copyright 2018 The Lawrence Journal-World. All rights reserved. This material may not be published, broadcast, rewritten or redistributed. We strive to uphold our values for every story published.