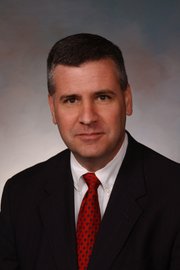 A longtime Missouri economic development leader, touted as a deal-maker, will become the next president and CEO of the Lawrence Chamber of Commerce.
Greg Williams, a former senior vice president of economic development for the Springfield Area Chamber of Commerce, is slated to assume the chamber's top executive position in late May, Lawrence Chamber of Commerce leaders announced Wednesday.
"It was clear to me that there is a lifestyle in Lawrence that my family and I will enjoy very much," Williams said. "And there is a tremendous amount of potential for economic development in Lawrence. There is a chance to move the bar, raise the bar significantly."
Williams has served the last two years as the director of research parks for the University of Missouri. But from 1995 to 2010, he worked for the Springfield Area Chamber of Commerce, serving as the No. 2 executive in the 2,000 member chamber for the last seven years.
Cindy Yulich, chairwoman of the search committee for the Lawrence chamber, said Williams' success in Springfield impressed the search committee.
"What we saw is a knowledge of how economic development really works, and a knowledge of who you need to be working with in those circles," said Yulich, who added that Williams comes armed with long-standing relationships with many site selectors who work in the region.
While in Springfield, Williams helped raise more than $4.5 million in a five-year period for economic development and helped broker deals involving $350 million in new investments in the Springfield region since 1995, according to his resume.
"Greg knows how to make things happen," said Jim Anderson, president and CEO of the Springfield Area Chamber of Commerce. "He knows how to put deals together."
Williams, 49, said Lawrence's quality of life, the presence of Kansas University, and its geographic location make it a "prime market for economic development." Williams also said the opportunity to help redevelop the former 400-acre Farmland fertilizer plant into a new business park was attractive. He said he worked to develop two major business parks in Springfield that have attracted more than 35 manufacturers to the region.
"I'm really looking forward to building and nurturing relationships with city, county, university officials," Williams said. "We're excited to get to know the community."
Williams said he, his wife and their 23-month-old triplets soon will begin the process of searching for a home in Lawrence. Williams, who received a degree from Central Missouri State University in 1985 in public relations, also has previously served in economic development jobs in Moberly, Mo., Brookfield, Mo., and the Missouri Department of Economic Development.
Williams replaces Tom Kern, who announced in July that he was leaving the Lawrence Chamber to take a similar position in Steamboat Springs, Colo. Chamber executive and longtime Lawrence businessman Hank Booth has served as the interim president and CEO for the past several months.
Yulich said she's confident Williams comes to the new job understanding the renewed level of importance community leaders have placed on economic development. She said he also understands that Lawrence is the type of community that can have vigorous debates about economic development projects.
"If you talk to folks outside of Lawrence, they will tell you we are a challenging place," Yulich said. "He knows that and is up for that. I think he is really going to help us draw the road map for a successful economic development program."
Yulich said Williams' nearly two-year stint at the University of Missouri also will help him in Lawrence because it acquaints him with how major research universities function. But Yulich also said Williams is aware that he can leave his black and gold ties behind.
"The last time I saw him, he was wearing a crimson and blue tie," Yulich said.
Copyright 2018 The Lawrence Journal-World. All rights reserved. This material may not be published, broadcast, rewritten or redistributed. We strive to uphold our values for every story published.