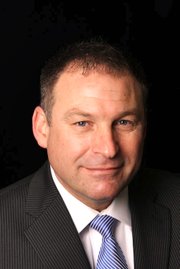 Adam Holden, an assistant professor at Fort Hays State University, has been named the Lawrence school district's new assistant superintendent of teaching and learning.
Currently training future superintendents at Fort Hays, Holden has been the head of several private and public schools in northwest Kansas. Since 1993, he's lived in Topeka. He spends most weekdays in Hays and weekends in Topeka.
"He brings a nice combination of theory and practice," Superintendent Rick Doll said.
Holden will replace Kim Bodensteiner, who has been the district's chief academic officer since 2007. Bodensteiner resigned from the position earlier this year to take a new job as director of teaching and learning in the Bellevue, Neb., school district, where Lawrence's former chief operating officer, Frank Harwood, is the superintendent.
In his new position, Holden will supervise the district's teaching and learning functions. Those include curriculum development, instruction, assessment, student intervention services, professional development, planning and program improvement, instructional technology and library media services. His base salary is $111,800.
Holden said in meeting with district administrators and teachers that he was impressed with the direction the district is headed.
"They knew where they wanted to go. And I'm excited to be a member of a team like that," Holden said.
Holden, who was born near London, was raised in the southern part of the United Kingdom. He has been a teacher, school administrator and adjunct professor in both private and public schools in Europe and the United States.
Holden helped open the Washburn Rural Alternative School in Topeka. As head of the Hyman Brand Hebrew Academy, he helped the school obtain National Blue Ribbon status and recognition as an International Baccalaureate World School. He also has served as a ninth to 12th grade principal for the Archdiocese in Kansas City, Kan., which included Topeka's Hayden High School and Saint Thomas Aquinas High School in Overland Park. Over the years, he has been an adjunct professor at the University of Saint Mary, Baker University, Benedictine College and Washburn University.
Holden was chosen from a strong pool of applicants, Doll said and picked for his success at "taking systems and making them better."
At Fort Hays, Holden works with advanced education programs and coordinates district leadership programs, which is geared toward training future superintendents.
His official first day in Lawrence will be July 1.
"I think the key to a good administrator is coming in and listening first," Holden said. "I'm very fortunate to be following someone who is as talented as Kim is."
Copyright 2018 The Lawrence Journal-World. All rights reserved. This material may not be published, broadcast, rewritten or redistributed. We strive to uphold our values for every story published.