Photo Gallery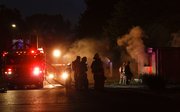 Fire at Gaslight Village Mobile Home Park
Lawrence-Douglas County Fire Medical crews Tuesday were investigating the cause of a fire that destroyed a mobile home in the 1900 block of West 31st Street.
Fire officials said the home was unoccupied at the time the fire started, about 5:30 a.m., and law enforcement officials confirmed the resident, a 21-year-old Lawrence man, was arrested about eight hours earlier on drug charges.
Paul Longino, who lives across the street in the Gaslight Village park, said he woke up to the sound of glass breaking outside, but he didn't realize the noise was caused by fire until he went outside.
"I saw the blaze, and before I could call 911 the fire trucks were already coming," he said. "It was showing. It was so big I could feel the heat on my porch."
Division Chief Eve Tolefree of Lawrence-Douglas County Fire Medical said the trailer was unoccupied, so no one was injured during the blaze.
The resident of the home was in Douglas County Jail when the fire broke out. The man, Bounsouay Khanya, 21, was booked into jail at 9:40 p.m. Monday for failure to appear in court on three warrants, one of which alleged drug sales.
Sgt. Steve Lewis, a Douglas County Sheriff's spokesman, said Khanya was arrested following a brief police chase just west of the mobile park.
Douglas County prosecutors on Tuesday charged Khanya with additional crimes: possession with intent to distribute cocaine, possession of methamphetamine, possession of drug paraphernalia and obstruction. Those charges stem from his Monday night arrest. Pro-tem Judge James George set his bond at $8,000.
About 5:30 a.m. Tuesday, nearby Home Depot employees called 911, and when fire crews arrived the home was fully engulfed. Crews took a defensive stance to knock down the flames. The fire did not spread to area homes, and it was declared under control at 5:54 a.m., Tolefree said.
"Defensively I think they got a good stop on it," she said.
Investigators were still at the property late Tuesday afternoon, searching for the fire's cause.
Copyright 2018 The Lawrence Journal-World. All rights reserved. This material may not be published, broadcast, rewritten or redistributed. We strive to uphold our values for every story published.