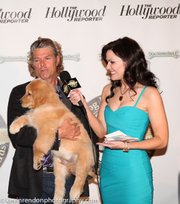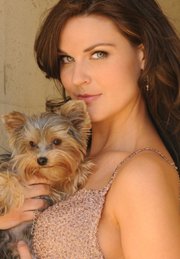 Photo Gallery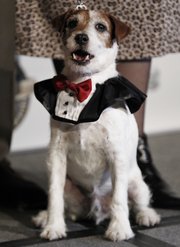 Golden Collar Awards
Kansas University graduate Brie Strohmeyer participated in the Golden Collar Awards for her job as a reporter at DogNewsDaily.com. Here are some shots from the show.
Brie Strohmeyer co-hosted an awards show in Hollywood in February, and just like any other awards show, there were celebrities, a red carpet, awards and lots of camera flashes.
"It was as loud and crazy as an award show could possibly be," she said.
But there was something a little different at this show. This red carpet event involved barking — lots and lots of barking.
The event was the first Golden Collar Awards, essentially the Oscars of the celebrity dog world. Alan Siskind, CEO of DogNewsDaily.com, dreamed up the show.
Strohmeyer, a 2003 graduate of Kansas University, is the on-camera reporter for the website, which is an online magazine aimed at dog owners and pet industry professionals alike.
Shortly after she graduated with a communications degree, she moved to Los Angeles. After a handful of jobs here and there, she landed her current job, thanks in part to her Yorkie, Leo.
"He's a little charmer," she said.
Strohmeyer, who is also the brand spokesperson for Stella & Chewy's Pet Food, was at an event for the TV release of "Marley and Me: The Puppy Years." Leo caught the eye of a cameraman from Dog News Daily. Strohmeyer went on to introduce herself to Siskind, the CEO of the website.
"And the rest is history, as they say," Strohmeyer said.
She has been with the website since August. At the Golden Collar Awards, she met celebrity dogs such as Uggie, the Jack Russell Terrier from "The Artist," and Jiggy, Lisa Vanderpump's Pomeranian pup in "The Real Housewives of Beverly Hills."
Strohmeyer, a fan of the TV show "Modern Family," also met Brigitte, the French Bulldog who plays Stella.
"Celebrity dog-wise, I already feel like I've gotten the crème de la crème," she said.
But Strohmeyer doesn't just meet celebrity dogs. She said she also gets to meet the celebrities that come with them.
Strohmeyer met the cast of "The Artist" at the Golden Collar Awards. Uggie won "Best Dog in a Theatrical Film" at the award show. She has also met Katherine Heigl from "Grey's Anatomy," Carson Kressley from "Queer Eye" and even YouTube sensation Rebecca Black.
She said she has learned some interesting facts while on the job, too. For example, just like human actors and actresses, dogs have understudies, too.
"They'll always have a backup," she said.
This keeps the pooches from being overworked, and sometimes, one dog is better at a trick than another dog, she said.
Strohmeyer's parents, Jane and Dan Strohmeyer, keep up with their daughter's job online from their home in Manhattan, Kan.
"It's fun to go online and see her," her dad said.
When Strohmeyer moved to L.A. nearly a decade ago, her dad said that he had his reservations.
"It's tough out there," Dan said. "It's tough to make a living."
But her family is proud of where she is now. No one, including Strohmeyer, could have predicted she would get a job as a celebrity dog reporter.
And was she always a dog person?
"Growing up," her dad said, "we had nothing but cats."
Copyright 2018 The Lawrence Journal-World. All rights reserved. This material may not be published, broadcast, rewritten or redistributed. We strive to uphold our values for every story published.