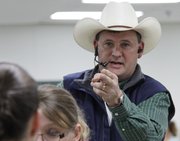 When Mark Elston was a boy he would attend auctions with his father, then come home and pretend to host his own. He would rattle off prices, selling his farm animals to imaginary bidders.
"I could do it since I was knee high, but I was always scared of getting in front of the public," said Elston.
Elston's childhood interest in auctioneering never faded. He is now a professional auctioneer.
Born and raised in Lawrence, Elston attended auction school in Missouri back in 1994, where he learned the business behind the craft. He was taught clerking, marketing, selling and networking — all in two weeks.
"They give you a lot of information in two weeks," he said. "It could have been six months."
During the two-week crash course, Elston also learned speech and voice control in an unusual way. Half of auction school was spent in group sessions.
If you, as a spectator, were to pop into one of the group sessions you might hear an eclectic group of students, men and women from all over the country, rushing their way through a bunch of tongue twisters: "rubber baby buggy bumpers," "Peter Piper picked a peck …," "unique New York, unique New York …"
"You focus on the tongue twisters you can do, then transfer that into numbers," said Elston. "When you're selling, it's like singing. If you go (to an auction) as a person observing, just think about somebody singing for four or five hours straight."
Endurance and speed are essential. A few weeks ago Elston hosted an 8-hour auction where he sold 1,500 items. That's two items per minute.
He might slow his pace for pricey stuff — cars and tractors — but as a rule, Elston says you can never sell something too fast. If he's not fast, he's not making money — for himself or for his clients. So he peels through the numbers as quickly as he can while still remaining coherent.
"If you are slow, they are going to nickel and dime you," he said. "Instead of giving two and half, they'll cut you a dollar. If you don't allow them to do that, it makes a rapid pace."
The auction industry, though a competitive one, is not a tough one to squeeze into. The most essential part is having a business network to aide you as you're starting out. After auction school, Elston networked with local auctioneers who helped him get going.
"I hooked up with the old-timers that had done all of the auctions in Lawrence. Since then, they have passed, but they taught me a lot of good trades," said Elston. "My business just grew off of that."
Elston has tried to help younger auctioneers break into the business, too. But most don't stick it out. The high turnover stems partially from the competitive nature of the job, compounded by diminishing business (much of the public have deemed auctions archaic and time-consuming, opting instead to make purchases and sell merchandise via Ebay and Craigslist). Another factor responsible for turnover is how hard the job is.
The most visible part of Elston's job is on auction day. That is also the easiest. What comes before is time-consuming, sweat inducing work.
If a client comes to Elston with a death in the family, he might have to do everything from the onset: dispose of food, clothing and trash; clean out the house, fix broken appliances, market the auction, then get everything out and on display on auction day.
One auction can require six weeks of work.
"The stuff just doesn't grow legs," said Elston.
Despite its challenges, Elston loves auctioneering. Viewing and sorting all of the stuff a person has accumulated in their lifetime fascinates him.
"There are very few hobbies that you can do that you can make extra money at," he said. "I feel like the auction is a hobby to me and it's not like golfing or fishing or drag racing (because) it doesn't cost me money. It's work, don't get me wrong. It's not leisure, but I consider it a hobby, and I like doing it. I've always liked doing it."
Copyright 2018 The Lawrence Journal-World. All rights reserved. This material may not be published, broadcast, rewritten or redistributed. We strive to uphold our values for every story published.