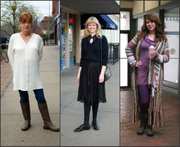 I am of the opinion that Lawrence, Kan., is the greatest place on earth.
I'm not sure how it happened — whether God intended for our city to be the mecca of the Midwest, or we took it upon ourselves to make this little corner of the world so alive and interesting.
Either way, this community-centered, darling little town is justifiably proud of how it has almost succeeded in declaring itself a sovereign state from the rest of Kansas.
Lawrence residents' collective beliefs and values are apparent on the surface. It doesn't take too long for an out-of-towner to realize that Lawrencians hold their town in high regard. It's generous, community-oriented, focused on localization of commerce and sustainability of energy, and eager to make itself an even better place to live.
And our style shows all of this too. Our neighbors show their dedication to these specific values by using their dollars to purchase local items and by wearing clothes that support these ideals.
And as far as style is concerned, to me, Lawrence is at the forefront of what's happening in the Midwest. We are influenced by both of the coasts, although debatably, the East Coast has more sway in what Midwesterners clothe themselves with. However, our style is our own — a little "out there," but typically grounded in what's popular in the fashion world.
Unfortunately, fashion has turned into being about the sexiest outfit or the raciest trend. In a sense, Lawrence, in true Midwest form, has rebelled against this idea.
In fact, modesty is one of Lawrence's strong suits. Unless I'm near certain bars at midnight on Saturday nights, rarely do I have to turn my head away out of fear that I'm going to see a body part that I don't want to see.
This particular sense of modesty is demonstrated in a number of ways in Lawrence, but it's not because we wear bland outfits that make our bodies look like shapeless blobs. Lawrence has a knack for getting creative with its outfits while keeping them wholesome, and here are a couple ways we do it.
Keep it neutral
We see a lot of neutral colors in Lawrence. Earthy tones pervade some Lawrencians' wardrobes, and these muted colors do a lot for keeping an outfit modest. There aren't many rhinestones, sparkles or satins in this town, which keeps outfits from saying too loudly, "Look at me!"
Dress in the yesteryears
Most dresses from past decades have higher necklines and longer hems than the dresses we see hanging in shop windows today. Lawrence's focus on secondhand vintage wear keeps ladies looking funky and artistic without crossing the line into scandalous.
Hug and flow
"Hug and flow" is the phrase I use to describe the combination of tight-fitting clothes and shapeless pieces in the same outfit. For example, tights paired with a long, billowing, button-down dress and a thick cardigan give people an idea of a woman's body shape without actually revealing the body. The tights hug, but the dress and cardigan flow, which balance out the outfit and keep it super modest.
Copyright 2018 The Lawrence Journal-World. All rights reserved. This material may not be published, broadcast, rewritten or redistributed. We strive to uphold our values for every story published.