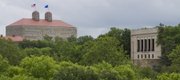 Subscribe to the email edition of Heard on the Hill and we'll deliver you the latest KU news and notes every weekday at noon.
Your daily dose of news, notes and links from around Kansas University.
• Increasingly, when looking for a college, potential students find themselves online, looking for reviews of potential universities.
One of these sites, Unigo.com, is launching a new service that allows prospective students to have video chats with current students for $30, according to a little newspaper up the road a bit, which has a pretty good article on its services.
Most of the reviews on the site are available for free, and I poked around at the stuff on KU, which streamlines pretty well with some of the stuff I hear out and about (it's fun to go to basketball games, Western Civ is hard, some stereotypes include that KU is a bunch of snobby liberal elites, etc.).
It's just one more tool in students' toolbox as we count down to that all-important May 1 deadline to decide to commit to where prospective students will go in the fall.
• A KU researcher and his colleages have possibly diagnosed the oldest-known case of osteoarthritis.
Bruce Rothschild, who works as a professor of internal medicine at Northeast Ohio Medical University and as a research associate at the KU Museum of Natural History, has published new research showing that found some dinosaurs suffering from the condition, according to this article in the New Scientist.
He and his colleagues found that three of the 10 available fossils of the bird-like dinosaurs, Caudipteryx, showed signs of osteoarthritis.
Why the dinosaurs, about the size of a peacock, developed the condition isn't really known.
The researchers were looking to find when the condition first showed up.
• The Salina Journal wrote this update on the experience of the first-year medical students there.
One student described the pace of learning like getting a new stack of pancakes every day. If you don't eat the whole stack, you've got two stacks to eat the next day.
The students are participating in lectures in Kansas City and Wichita connected by big-screen TVs and webcams and microphones.
Some ideas apparently haven't taken off as well with students so far, including an effort to match students with older students in Wichita and KC to get advice on issues they're facing. That's been hit-or-miss, the students reported.
And some students said the podcasts of lectures they get haven't been heavily used.
All that and a bunch more at the original story.
• The reason Heard on the Hill is better than eating a stack of pancakes every day is because of the awesome tips I get sent to ahyland@ljworld.com, so keep sending them my way.
Copyright 2018 The Lawrence Journal-World. All rights reserved. This material may not be published, broadcast, rewritten or redistributed. We strive to uphold our values for every story published.