The greens are rolling fast and true. The bent-grass fairways are in tip-top shape and the pleasing-to-the eye, immaculate tee boxes will satisfy the talented golfers about to use them as launching pads.
Lawrence Country Club is ready for the Big 12 women's golf tournament, which runs from Friday through Sunday, after a Thursday practice round.
Bill Irving, LCC's superintendent, is the man most responsible for the course rounding into top shape, but any greenskeeper is only as good as his or her ultimate boss, Mother Nature.
"I would say the weather throwing us a really weird curveball is the thing that's going to make me lose the most sleep," Irving said.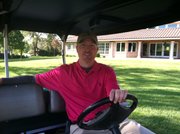 Ideally, more rain would have fallen on the course this past week, but for the most part, it's been a golf course-friendly winter and spring.
The extended forecast calls for a 30-percent chance of rain Thursday, 40 percent Friday and 60 percent Sunday. Irving hasn't figured out a way to change Mother Nature's mind, but he has thought of just about everything else in advance of the most prestigious event held at LCC since it reopened Sept. 30, 2006, after a facelift.
"My only other worry would be we're so reliant on college students for labor — about half my crew or so is college students," Irving said. "I've tried to impress upon them the importance of this tournament and that we need to be here on time and ready to go in the mornings and in the afternoons, as their college schedules allow. My biggest fear is one or two of them oversleeping or just not having their heads on straight."
It's not a new concern.
"That's a fear or a worry that I have from April 1st through the end of September every year, because without those guys, we can't get everything done," he said.
The Big 12 requested that the greens stimp at a slick 10-1/2-to-11 feet, a range that is just a foot more than normal LCC conditions.
"Because of the size of our greens and the quality of construction and just the layout, it's very easy for us to have fast greens," Irving said. "We don't have to work hard to get them fast."
Kansas University women's golf coach Erin O'Neill has taken her team to LCC several days a week for several weeks in an attempt to gain local knowledge that could aid the underdog Jayhawks in closing the talent gap on the likes of Oklahoma State, Texas A&M; and Texas. At the end of those practice sessions, O'Neill supplies feedback to Irving on how the course is playing in areas such as speed and firmness of the greens.
Mark Elliott, one of the state's better senior golfers and a Topeka radio voice, refers to LCC as "the longest short golf course."
A few of the course's longest par-4 holes usually are played into a south wind. The hilly terrain can make the course play longer than its distance as well. The women will play some holes from the black tees (the tips), some from the bronze (the tees favored by the majority of members) and some from the silver tees, which are favored by high-handicappers who are not too proud to play the tees that make the most sense for their games. (In other words, about half the people who should be playing them. Oops, I forgot. I live in a glass house and really shouldn't hurl stones. I break enough things with golf balls as it is).
Scores in the spring tend to be higher than the summer for reasons that extend beyond hacks knocking off winter rust, one double-bogey at a time.
"The one thing that people know and love about Lawrence Country Club is the rough," Irving said. "The rough is very rough, especially in the spring. It's gnarly. It'll grab your ball. It's hard to find. It's hard to advance."
Irving did a nice job of articulating what makes LCC a tougher track than the yardage might fool golfers into believing.
"I've said it time and time again, this is the hardest par 70 that you'll ever play, at least in our area, just because the greens can get really fast. They can get really firm," he said. "They don't hold shots sometimes like people wish they would. A lot of trees. You can get stymied easily. Tough to advance it. You can take a big number out here without trying very hard on a few holes. You have to take your medicine. You have to keep your doubles to singles and keep your triples to doubles. You can't take eights. You've got to make your eights sixes or less."
Irving's a good stick. On the rare occasions he is able to get down off the tractor and tee it up, he makes following his advice look easy. It's not. On No. 7, the roofs to the left of the green and the pond to the right have wicked magnetic pulls. On No. 8, the invisible mega-magnets are located on the street left of the fairway and the sand trap in front of the green. The pond in front of No. 16 has an insatiable thirst for golf balls and even has been known to drink layup shots.
Then again, golfers talented enough to play in the Big 12 might not obsess on such things as much as oh, say a 22-handicap. Maybe Big 12 golfers take dead aim on their targets and have the confidence they'll hit them consistently. What a novel concept.
Copyright 2018 The Lawrence Journal-World. All rights reserved. This material may not be published, broadcast, rewritten or redistributed. We strive to uphold our values for every story published.