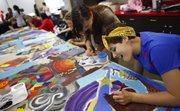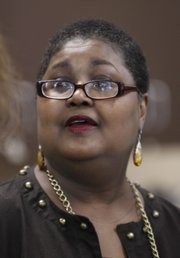 The influence of Aaron Douglas was splashed across a long stretch of canvas in the middle of the art room at Liberty Memorial Central Middle School.
Bright colors, silhouettes, bold geometric shapes and beams of light filled the canvas.
Since the beginning of the semester, eighth-grade students in Michel Loomis' English class have spent one class a week learning about Douglas' work and creating art in his honor. Overseeing the process is Marla Jackson, a local quilt artist who has collaborated with Loomis for the past several years.
"You know school can be pretty tedious, so to have someone like Marla Jackson come into the class, work with kids, teach them about Aaron Douglas, it's a lot of fun for them," Loomis said.
Earlier this week, Jackson was instructing students to blend the colors of their paintings with markers as jazz played in the background. Each of the 17 students in the class has created a block of art with a unique take on Douglas' work.
Each week, eighth-grader Riley Bane said she looks forward to the class. In her section of the mural, Bane had used a quote from Douglas: "Don't call me the father of African American Arts, for I am just a son of Africa and paint for what inspires me."
"It really speaks to me," Bane said of the words. "He was so humble."
Bane also incorporated the signature beam of light that Douglas often included in paintings.
"He put a little hope into every painting, even though it was about bad issues," she said.
Dakota Collins' painting of bright colors and silhouettes with men climbing toward a bright light touched on another theme in Douglas' work.
"They are trying to get to a better place," Collins said.
Once finished, the work will be displayed this summer at Kansas University's Spencer Museum of Art, then at the Brown vs. Board of Education National Historic Site in Topeka. Along with the work of the middle school students, a class of fourth-graders in Topeka will be making quilts for the exhibits.
Susan Earle, a curator at the Spencer Museum, published a book about Douglas, which Loomis had used to teach the class. In 2007, the museum housed the first national touring exhibit that focused on Douglas' work and legacy.
Born in Topeka and the foremost visual artist of the Harlem Renaissance, Douglas was highly educated and taught for many decades, Earle said.
"I think it's a great experience for them to (learn about) a great thinker as well as a great artist," she said.
For the past several years, Loomis has mixed literature with the visual arts by bringing in Jackson to lead quilt projects with her students.
Last year, the quilt focused on the First Kansas Colored Volunteer Infantry, which was the first black regiment from a northern state in the Union Army. Those quilts were also displayed at the Spencer Museum. And the year before that the quilts were inspired by writer Richard Wright's haiku poems.
Because Douglas was a painter and created murals, the group thought that it would be fitting to depart from the more traditional quilts. Jackson said they still might sew the fabric that has been painted.
This year, students learned about Douglas' work, where he came from and the influence he had on the Harlem Renaissance. Each of the students had to write an artist's statement explaining how Douglas' art inspired their work.
"There are different ways to educate children," Loomis said. "This is a nice break and helps some of them really like school."
Once her students learned about Douglas, Loomis said, they started seeing his influence on today's world. One student even recognized the homage to Douglas in the Disney movie "The Princess and the Frog."
"That's what education should do," Loomis said. "It should make you feel like you know things."
Copyright 2018 The Lawrence Journal-World. All rights reserved. This material may not be published, broadcast, rewritten or redistributed. We strive to uphold our values for every story published.