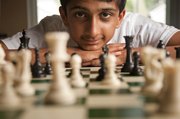 Think of your moves in advance.
That's the advice of Lawrence High School freshman chess player Kaustubh Nimkar.
Last week, Kaustubh took home the first-place trophy in the Under 1200 section of the U.S. Chess Federation's National High School Chess Championships. The Under 1200 section refers to the rating that players are given and was the third highest of five divisions at the tournament in Minneapolis. His division had 338 players.
During the tournament, Kaustubh won seven games in a row over a three-day span. The games ranged from an hourlong to nearly three and a half hours.
"When you are focused on the game, you don't even keep track of time," Kaustubh said.
Going into the tournament, Kaustubh said he had confidence that he would do well but admitted "it felt great afterward" to win.
Kaustubh started playing chess as a third-grader at Sunflower School.
"I enjoyed it. I got more serious about it when I moved on to junior high. I started playing in a series of chess tournaments, got a coach and went to nationals after that," he said.

In March, Kaustubh took third place in the state high school tournament, the highest place for any freshman in the state. In junior high school, Kaustubh won the state championship two years in a row.
Kaustubh, who likes math and plays point guard on LHS' C-level basketball team, said he has learned patience and focus from chess. During a match, Kaustubh said he is usually thinking two or three moves ahead.
To improve, he reads books about chess, plays against the computer and practices with a coach. He works on tactics such as finding ways to end games or to spot openings on the board.
"If it is a complex situation, I take my time and think as long as I need to," he said.
Kaustubh's national victory means he has a higher rating, which pushes into the next division. And the win was one step forward in his dream of one day winning the top division at the national high school tournament.
"But that is going to take a lot of work," Kaustubh said.
Copyright 2018 The Lawrence Journal-World. All rights reserved. This material may not be published, broadcast, rewritten or redistributed. We strive to uphold our values for every story published.