A little drizzle did not frighten two-time defending USA Indoor champion Janay DeLoach, who won the Kansas Relays downtown long jump competition Thursday with a leap of 21 feet, 8 1/4 inches.
The 5-foot-5, 26-year-old Colorado State University graduate competed four years for Ben Eielson High School at an Air Force base near Fairbanks, Alaska, where it gets mighty inclement.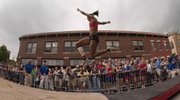 "Cold is cold no matter where you go. As long as it's warm it doesn't really matter," said DeLoach. She outdistanced former Texas Tech competitor Tori Polk (21-1 1/4) and former Arizona athlete Brianna Glenn (20-10 3/4) in 80-degree temperatures with just a tad bit of moisture falling prior to the athletes' final jump.
"As soon as it gets cold, the wind starts blowing and it's not so much fun. This was fun to compete, fun to watch, fun to have the crowd around."
DeLoach, whose goal this outdoor season is to make the U.S. Olympic team, fared well in her first outdoor meet of 2012 before about 1,500 fans.
"All of us girls are at the beginning of our season," said DeLoach. She placed sixth at the 2011 world championships. "It didn't look like we jumped all that great today. It's so early in the season you never know. All of us will go to the (Olympic) Trials and give everyone a run for their money. These are great girls and great competition too."
Making her first-ever trip to Kansas, DeLoach is ready to start her push toward the Olympics.
"I definitely want to stay at 22-5 consistently," she said. "I want to get my average a little higher. You don't always jump your best every time. I'm looking forward to working hard to make it to the Olympics."
Nebraska's Bjorn Barrefors won the Relays decathlon with 7,308 points; Liz Roehrig, who was unattached, won the heptathlon with 5,460 points. KU's Alena Krechyk won the hammer in 216-8 and teammate Tessa Turcotte the 3,000 in 10:08.45.
Copyright 2018 The Lawrence Journal-World. All rights reserved. This material may not be published, broadcast, rewritten or redistributed. We strive to uphold our values for every story published.