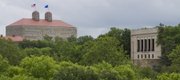 Subscribe to the email edition of Heard on the Hill and we'll deliver you the latest KU news and notes every weekday at noon.
Your daily dose of news, notes and links from across Kansas University.
• Though the high-profile announced departure from KU on Thursday was Engineering Dean Stuart Bell leaving for Louisiana State University, he wasn't the only person at KU to leave for another job.
Christine Walther-Thomas, the chairwoman of KU's top-ranked special-education department, was announced as the next education dean at Virginia Commonwealth University, according to the Richmond Times-Dispatch.
Walther-Thomas received her doctorate from KU and joined the faculty in 2003.
A little more than two years ago, I remember talking to her about how the special-education department kept its ranking high, and she expressed concern at that time that budget shortfalls made it difficult to replace retiring faculty members in the discipline.
At the time, she said she hadn't been able to replace four faculty members who had retired from the department in the previous three years.
(Since then, the department has hired two new assistant professors, according to the faculty profiles on its website).
But add that to the news earlier this week that pharmacy associate dean Ron Ragan was leaving to become a dean at High Point University, and it's been a heavy week for this sort of news.
• Kansas State University has joined KU in awarding honorary doctorates this year, opting to stay with the Kansas theme in awarding a degree to former Secretary of Defense Robert Gates.
Gates, who served under presidents George W. Bush and Barack Obama, is a native of Wichita. He also served as president of Texas A&M; University.
(And, yes, that means he has a real Ph.D., in Russian and Soviet history from Georgetown University).
I learned about this, by the way, from Kansas State President Kirk Schulz's Twitter feed, which is always pretty active.
And, just in case you've forgotten (or never knew), KU will be honoring four people with honorary doctorates during this May's commencement ceremony: former U.S. Senator Bob Dole, former FDIC chairwoman Sheila Bair, Ford CEO Alan Mulally and composer Kirke Mechem.
• And I'll leave you with a rather strange phone call. Sometimes Pulitzer Prizes come from strange phone calls, so I never discount them. At least not completely.
A colleague told me that he had fielded a call to the newsroom about someone asking if we were going to go up to KU and cover "The Merge."
Attempts to clarify what exactly "the merge" was were not exactly successful. I figured it might be the pending merge between the Facilities Operations folks and the Housing Maintenance folks, but we've written plenty about that, and there isn't anything terribly new to report on that front (at least I don't think there is).
So I figured I'd toss it to the Heard on the Hill faithful, just in case. If you're merging, or you've been merged, or you see a merge coming and it's distressing you, feel free to let me know. Maybe we'll all celebrate a Pulitzer or something.
Just make sure you tell me what is merging with what.
• No one has yet offered to make me dean or provost of anything, so I think I'll keep writing Heard on the Hill for now, so you'd best keep on sending me those tips at ahyland@ljworld.com.
Copyright 2018 The Lawrence Journal-World. All rights reserved. This material may not be published, broadcast, rewritten or redistributed. We strive to uphold our values for every story published.