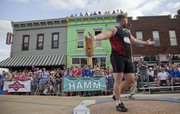 Paradise found in downtown Lawrence on Eighth Street between Mass and New Hampshire streets Wednesday night.
Reese Hoffa, the friendly giant who had played with a lighter and accidentally burned down the family home at the age of 4, a fire that resulted in his and his brother's moving into an orphanage, left there by their mother, lights up the crowd to win the second downtown shot put on his final of six throws.
Ryan Cantwell, booed at introductions for having graduated from Missouri, wins over the same crowd with the two best throws in the world this year until Hoffa topped him, and talks a little trash afterward. Perfect.
The shot put ring, on this night the ring of fire that ignited a crowd estimated at 3,500, was the center of everybody's attention for 59 minutes.
A half-block west, as the shot-put crowd dispersed, The Twang Daddies, so talented, so high on life, teased the gathering spectators by fooling them into thinking their rendition of June and Johnny Cash's "The Ring of Fire" had ended, only to crank up another verse after a lengthy pause, and then another and another.
Good moods abounded, and then there was Cantwell, the strongest guy on the block, beating himself up and calling the winner "lucky."
"I would have won this with a 17-pounder," Cantwell said, referring to a recent throw he made with a practice shot that is one pound heavier than the ones used in competition. "This sucks."
What went wrong?
"Everything," he said. "This was about the worst day I've had in three weeks. Good day to have one, right?"
Tough words to speak about a guy who until the 59th of 60 throws from the 10 competitors was winning the event and had the world's two longest throws of the season.
"Hoffa gets lucky, you know," Cantwell said. "In every other competition, they re-order, so I would have gone last. You know, everybody gets lucky. He's going to need to keep getting lucky if he wants to beat me because this is going to be one of my shortest meets of the year, I promise that, for sure. I should have done 60 centimeters better."
Nothing but cheers for Hoffa, the crowd favorite because of his outgoing personality and theatrics.
"Hoffa, he loves this (expletive deleted)," Cantwell said. "You know, good luck. He did good. He's in shape to throw for it. I'm actually training. He's peaked out, so, you know, he should win. He got lucky. I did terrible, and he did really good. That's the way it goes."
Is this not great stuff? Would not TV viewers eat up the runner-up's mouth becoming a ring of fire, instead of vehicle to auto-pilot boring, politically correct platitudes competitors usually spew during post-event interviews. The world needs to see and hear more from these behemoths. Corporate sponsors are missing a great opportunity, not realizing that strong men with strong personalities have the potential to build strong followings on a college-town tour with standings, money-winning lists, life-story vignettes, etc. Instead, Lawrence is the only U.S. town to have such an event. Lucky Lawrence. Smart Lawrence.
Cantwell looked genuinely surprised when booed at introductions. He shook his head and muttered to himself, "That's harsh."
Afterward, he still sounded surprised, but was able to see the lighter side of it once he talked it through.
"I love that they do this for us, I'll be honest," Cantwell said. "I do a lot of meets, and the meet director, Milan Donley, he treats us great. The hotel is great. Everything's good. You can't ask for a better set-up than this, for sure."
And then the delayed counterpunch.
"Especially for people from KU," Cantwell said. "I can't believe they booed me. What the hell? I expect it. Whatever. That's fine."
But wouldn't a KU shot putter get booed if he competed in a downtown shot put in Columbia, Mo.?
"Probably," Cantwell said. "For sure. I'd have called The Antlers up, and they would have been there in a heartbeat. It would have gotten ugly. For the most part, I guess they behaved themselves pretty good."
Of course they did. They were in a great mood.
Copyright 2018 The Lawrence Journal-World. All rights reserved. This material may not be published, broadcast, rewritten or redistributed. We strive to uphold our values for every story published.