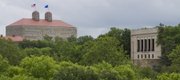 Subscribe to the email edition of Heard on the Hill and we'll deliver you the latest KU news and notes every weekday at noon.
Your daily dose of news, notes and links from around Kansas University.
• The University Daily Kansan answered one question I always like to get answered after Student Senate elections on campus each year, and that's the percentage of the student body that casts votes.
This year, turnout was pretty low. At 8 percent, in fact, the Kansan reported.
That's a dive from 21 percent turnout last year, but more in line with the 12 percent in the 2010 elections.
Of course, the major senate coalitions didn't really have too much significant opposition, though the Occupy KU crowd did field a slate of candidates and supporters that showed up to things in togas.
For what this is worth (and I don't really claim to know enough about Student Senate inner workings to really be able to tell you what it's worth), the KUnited coalition has won 53 of the 54 contested senate seats in the last election.
So now it's the KUnited coalition and what's essentially the Thomas Ringenberg coalition. I'm calling it that because Ringenberg is an independent candidate who won a graduate studies senator spot, making him the lone non-KUnited representative.
I think if I were Thomas Ringenberg, I would pull some crazy stunts just to make sure the rest of the senators knew I was there, like bringing an air horn to official senate proceedings.
It's probably good that I'm not Thomas Ringenberg.
• The Dole Institute of Politics is continuing its Presidential Lecture Series with upcoming events on Richard Nixon and Lyndon Johnson.
They're looking at presidents who have succeeded and presidents who have failed. In a message preceding the upcoming events, Bill Lacy, Dole Institute director, said both presidents are ranked relatively poorly historically. Nixon has Watergate to thank, and Johnson can look to Vietnam.
The program is designed to focus on how the presidents might fare without those events hanging over them.
Two former Nixon speechwriters — John Andrews and Lee Huebner — will discuss the former president at 7:30 tonight at the Dole Institute.
And Mark Updegrove, LBJ Library and Museum Director, will talk about Johnson at 7:30 p.m. Monday at the Dole Institute.
• KU's School of Pharmacy is looking for a new associate dean for academic affairs after Ron Ragan has announced he will leave the school, with his final day on June 29.
Ragan will become the dean of a new school of pharmacy at High Point University in North Carolina.
Ragan has been at the school since 1998, and served as associate dean since 2004.
The search has already begun for a new dean, and KU Dean Ken Audus hopes to have the spot filled by the fall semester.
• I've asked the bosses if Heard on the Hill can get a speechwriter, but so far no luck. If I ever get one, I'll send that person around town so he or she can persuade people to send me good tips at ahyland@ljworld.com.
Copyright 2018 The Lawrence Journal-World. All rights reserved. This material may not be published, broadcast, rewritten or redistributed. We strive to uphold our values for every story published.