With two minutes left in the first overtime, Olathe Northwest's Hannah Kaloupek appeared to have a path to the winning goal on a breakaway.
Photo Gallery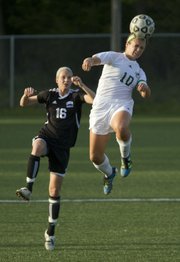 FSHS soccer vs. Olathe Northwest
The senior — a first-team All-Sunflower League selection last year and Missouri-St. Louis signee — had only one defender to beat: Free State's Olivia Hodison, who caught up to get to her inside hip.
Hodison kept her composure, running step-for-step and holding her ground before poking the ball away to stymie Northwest's scoring chance.
The play was just one example of a strong defensive effort for the Firebirds, who settled for a 0-0 double-overtime tie against the Ravens following Tuesday's match at Free State.
"One v. one defending, Olivia is amazing right now," Free State coach Kelly Barah said. "... She's done that on numerous occasions. It looks like a routine play to us now."
Through seven games, Free State (4-1-2) has allowed just five goals. Tuesday night's match also was the Firebirds' fourth shutout.
"There was definitely some improvement needed, but I think overall we held our own and were able to stop shots from getting off," Hodison said. "I think defensively, we played well."
Along with Hodison, senior Amber Hicks, junior Madeline Caywood and junior Rylee Fuerst were part of the Free State back line that kept Northwest (4-3-1) scoreless.
"Our defense has been really solid from Day One," Barah said. "So right now, we hang our hats on the fact that we can play collectively as a unit back there."
The Firebirds never could put in a goal of their own, though they had numerous chances late.
In the 52nd minute, Maddie Dieker sent a ball ahead to Margaux Gill on a breakaway, but the junior's shot sailed right into the hands of Northwest keeper Jenna Doran.
A minute later, Dieker's cross for Chelsea Casady was hammered over the top of the goal. Then, in the 54th minute, Dieker sidestepped two defenders before knocking a shot off the left post.
"We definitely think we left a couple goals on the field today," Barah said, "which we usually don't do."
Doran also made a diving save on a shot attempt by Dieker with four minutes left in double-overtime.
"It's really frustrating, because that definitely was a winnable game," Hicks said. "To go out of a game knowing you could have won and having a result like that is really hard to swallow."
Barah left encouraged by a few things he saw, including his team's fight and also its ability to connect passes and control tempo.
"We like our progress," Barah said, "because for us, it's about the journey. And we're liking the journey right now."
Copyright 2018 The Lawrence Journal-World. All rights reserved. This material may not be published, broadcast, rewritten or redistributed. We strive to uphold our values for every story published.