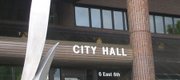 Subscribe to the email edition of Town Talk and we'll deliver you the latest city news and notes every weekday at noon.
News and notes from around town:
• According to the company's advertisements, Sears is its final days of operation in Lawrence. But we reported back in February the company was interested in finding a franchisee to open a Hometown Sears store in Lawrence.
Well, it looks like that interest is turning into reality. Gerald Huston, the Sears executive that oversees the Sears Hometown program in this region, told me he has found a franchisee. He said he now expects to have a Sears Hometown store open by Aug. 1.
The Sears Hometown store is basically a smaller version of a Sears full-line store. The store will carry lawn and garden equipment, major appliances, Craftsmen tools, and other "hard line" items. What it will not carry is clothing, jewelry and other "soft line" products.
If you are familiar with the Sears stores in either Ottawa or Atchison, those are both examples of a Sears Hometown store. But make no mistake, the Sears Hometown stores are much smaller than a traditional Sears store. The Sears building at 2727 Iowa is about 85,000 square feet. The new Sears Hometown store will be closer to 8,000 square feet.
Huston said the company will not use part of the old Sears store to house the new Hometown Sears. Instead, he said he and the franchisee — who he did not identify — are honing in on two locations in town. One is the former Rod's Hallmark store near 23rd and Iowa Streets and the other is a location near the Ace Westlake hardware store at 23rd and Louisiana.
As for what will become of the Sears building, I'm still hearing that it is a hot commodity, but I haven't seen any evidence of what eventually will land there. The situation seems a bit confusing though. I've been told the Kmart Corp. — Sears' parent company — controls the property. But according to land records, a company run by Los Angeles real estate investor Elise Sinay Spilker owns the property.
I've been told that at least two groups of investors have attempted to purchase the building, but my understanding is both were rebuffed because interest from retailers was high enough that the owners decided to keep the building for rental property. But I don't know who is driving the bus on this property: Kmart or the Los Angeles group. Either way, speculation was that Dick's Sporting Goods was interested in the site, but I don't have anything solid to report on that. It is worth noting that Dick's Sporting Goods has recently expanded into the St. Joseph, Mo., market, which is similar in size to Lawrence.
• There will be an expansion on a much smaller scale at John Taylor Park in North Lawrence.
The city has received a $4,750 grant through the Kansas Community Gardens Project to improve its new community garden at the location. The grant will provide funding to build fences, signs, garden beds and a tool shed at the site.
The community garden at John Taylor Park, North Seventh and Walnut streets, is part of the city's new Common Ground program, which aims to promote urban agriculture and locally grown foods. The program is seeking folks who are interested in gardening at one of three locations around town. For more information, click here.
• Another week, another week's worth of property sales. Click here to see the listing of land transfers as recorded by the Douglas County Register of Deeds for the week ending April 9.
Copyright 2018 The Lawrence Journal-World. All rights reserved. This material may not be published, broadcast, rewritten or redistributed. We strive to uphold our values for every story published.